Southern Fried Corn Pop Chicken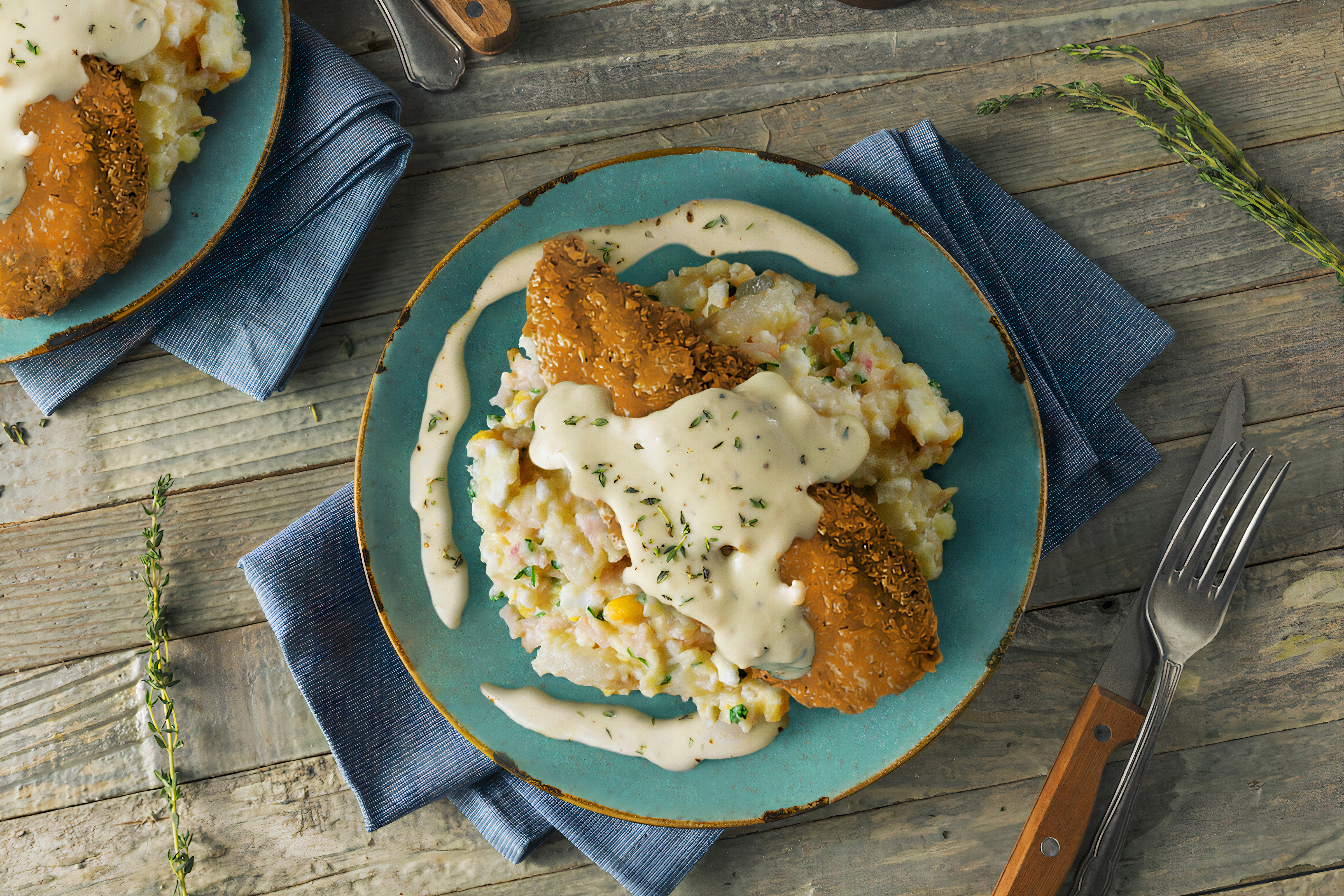 Battered and fried in a crunchy corn pop-panko mix and flavored with bacon, spinach, and a touch of bourbon, this southern fried chicken recipe is a guaranteed crowd pleaser.
Ingredients:
Chicken breast, raw - 1

each

Buttermilk Marinade & Batter for Chicken -

Corn pop- panko mix - 1/2

cups

Mashed potatoes, prepared and hot - 6

oz.

Spinach leaves - 1

cups

Corn kernels - 1/4

cups

Cooked diced bacon - 1

tbs.

Shallots fresh, chopped - 2

tbs.

Cream soup base, reconstituted - 4

oz.

Bourbon liquor - 1

oz.

SunGlow European Style Butter Blend - 1

oz.

Green onion, julienne - 2

tbs.

Salt and pepper mix - To taste

To taste
Preparation:
Take the chicken breast, drain off the batter, and bread the chicken in the panko-corn pop mix. Press down on the chicken firmly and ensure all the chicken is covered with the breading. Fry the chicken to a golden brown in a 350 F degree fryer. Cook until internal temp is 165 F degree internal temp.
In a sauté pan place the Phase and heat, add the corn, spinach and bacon, heat through. Once the spinach has wilted add the mashed potatoes. Make sure everything is well Incorporated.
In a sauté pan sweat the shallots, add bourbon, and let flame. Add the cream soup base and let reduce for 1 minute. Finish the sauce with Sunglow and salt and pepper if needed.
Place the mash potatoes in the center of the plate, Place the sauce around the mashed potatoes, fried chicken on top of the mashed potatoes.
Julienne green onion on the top of the cooked chicken breast to finish the dish.