Pan Fried Crab Cakes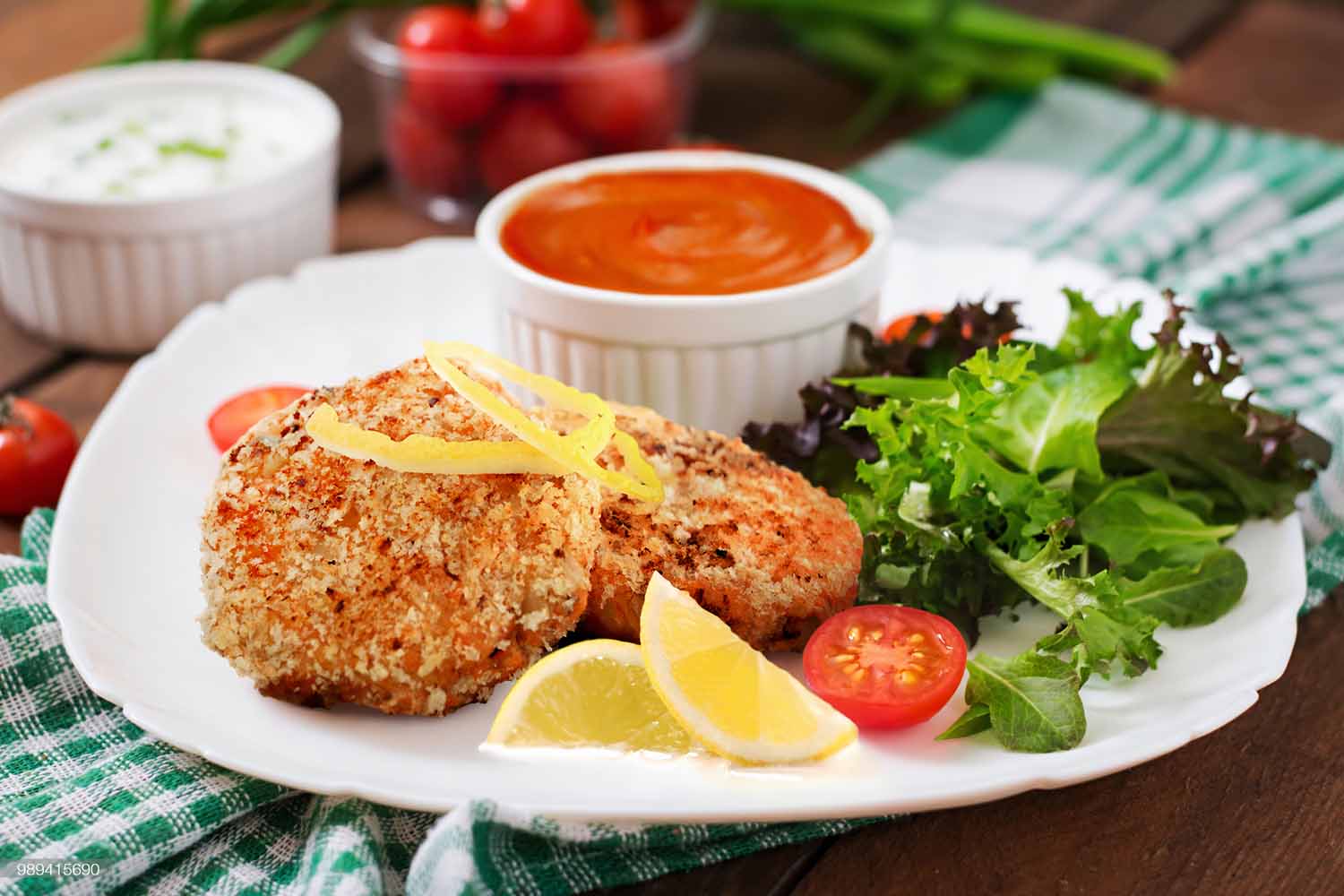 Prepared with panko-crusted crab meat and a medley of nutritious vegetables, these crab cakes make for a mouth-watering starter that will leave your customers hungry for more.
Ingredients:
Crab Cake Mix - 2

each

Phase LBA - 2

oz.

Gochujang Miso Mayonnaise - 2

oz.

Mixed greens - 1/2

Cup

Creamy Italian Vinaigrette - 1/4

oz.

Diced cucumber - 1

tsp.

Diced tomatoes - 1

tsp.

Carrot julienne - 1

tbs.

Lemon wedge - 2-1/6th cut

each

Italian parsley sprig - 1

each
Preparation:
Place Phase in the sauté pan on the stove on a medium flame. Place the crab cakes in the pan and allow them to sear until golden brown and crisp on both sides.

Allow them to cook in the pan until the internal temp of the crab cakes is 165F. degrees. Once that has been achieved turn the flame off and hold in the pan.

Toss the mixed greens with the vinaigrette and combine. On the serving plate mound the salad toward the bottom of the plate. Place the crab cake on opposite sides at 9-3 o'clock leaning on the mixed greens.

In a ramekin place the sauce and place the ramekin at 12 o'clock with the lemon wedges on both sides opposite of each other with a sprig of Italian parsley.

Lastly sprinkle on the carrots, tomatoes, and cucumbers on the top of the mixed greens.
Serving Suggestion:
This can be served as an appetizer for 1 person, or can be used as a starter salad – just reduce the crab cake to 1 each and dollop the sauce on top of the crab cake. It can also be used as a slider with a salad on the side.