Gochujang Bacon Crusted Marshmallow Rice Crispy Pop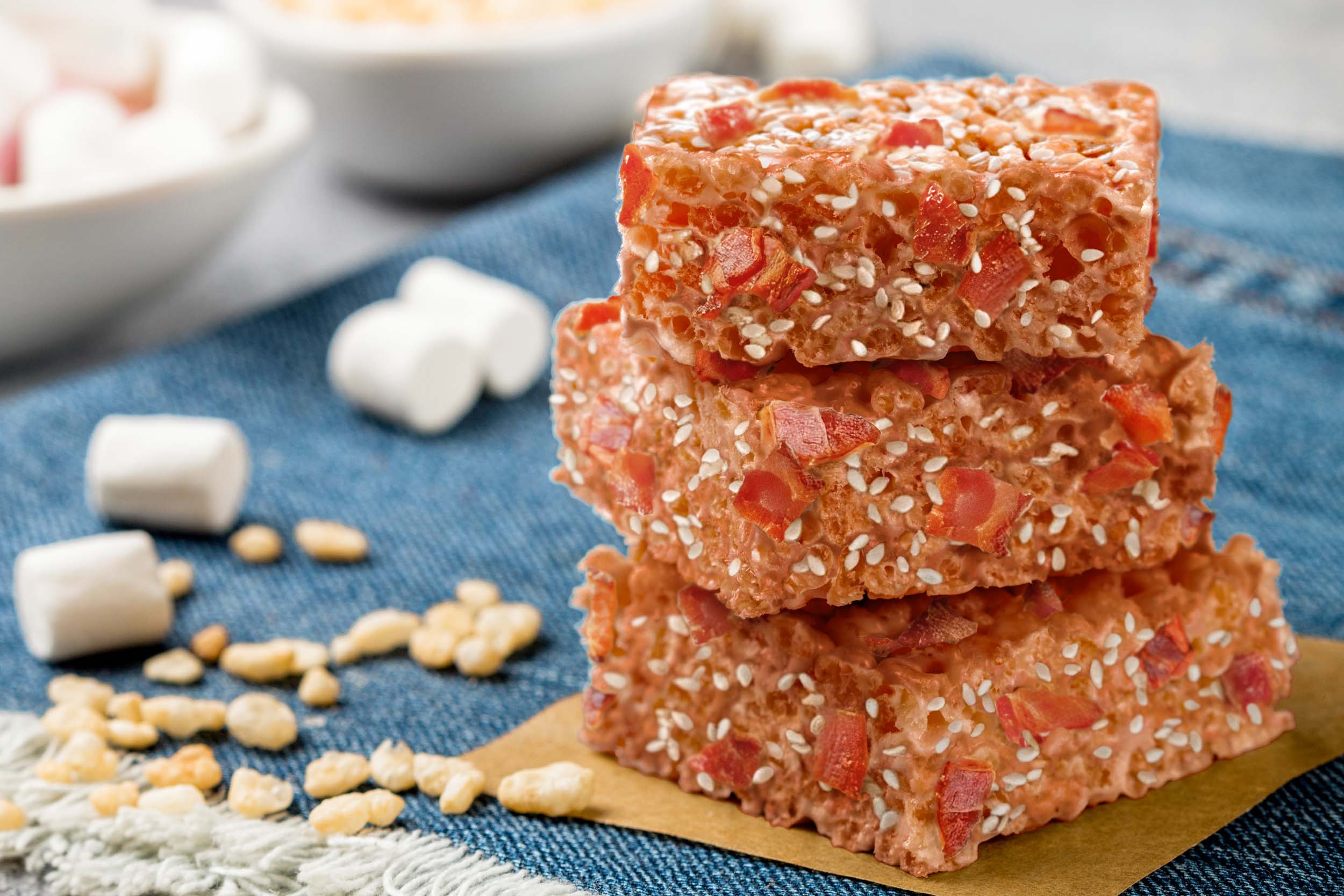 Satisfy your customers' love of sweets and cravings for savory with gochujang-spiced, bacon encrusted rice crispy treat pops. This recipe cleverly combines irresistible sugary and salty ingredients to create a dessert with enduring, widespread appeal.
Ingredients:
Liquid Sunglow - 1.75

cups

Mini marshmallow - 40

oz.

Rice crispy cereal - 18

cups

Toasted sesame seeds - See ratio

See ratio

Crisp bacon, chopped small - See ratio

See ratio

Gochujang Korean pepper, Sauce Craft - As needed

As needed

Assemble: -

-

Stick- 4" - 1

each

Prepared rice crispy pop cut 2" wide x 2" long square - 1

each
Preparation:
Place a large pan on the stove on low heat get the Liquid Sunglow hot and stir in the marshmallows. Continue to stir the marshmallows to avoid burning. Once you start to see the marshmallows melt turn the flame down the flame to low on the stove.

Once the marshmallows completely are melted fold in the cereal and combine well quickly as the cereal will cool down the marshmallow quickly and make it very firm to stir. Keeping the mixture warm is key.

Use a 1/2 sheet pan and spray lightly with pan spray. Pour the mixture onto the sheet pan and spread evenly. Allow to cool. Spread it out the best you can from end to end of the sheet pan. Using a rolling pin to smooth it out is a easier and effective way to get it smooth quickly. Allow to cool for a few hours.

Cut the rice crispy into 2" wide x 2" square and place on the stick until it is secure on the stick.

Once the rice crispy pop has been cut to size and stick has been inserted. Brush the Gochujang sauce on lightly on all sides of the rice crispy pop.
The mixture ratio of the bacon to sesame seeds should be 50/50.

Sprinkle the bacon /sesame seed blend on all sides of the pop by hand.

Do not brush sauce and garnish the rice crispy pop too far in advance because it will make the texture soggy.