Latest Trends
Trending Now: Pizza Insights
Published on July 14, 2022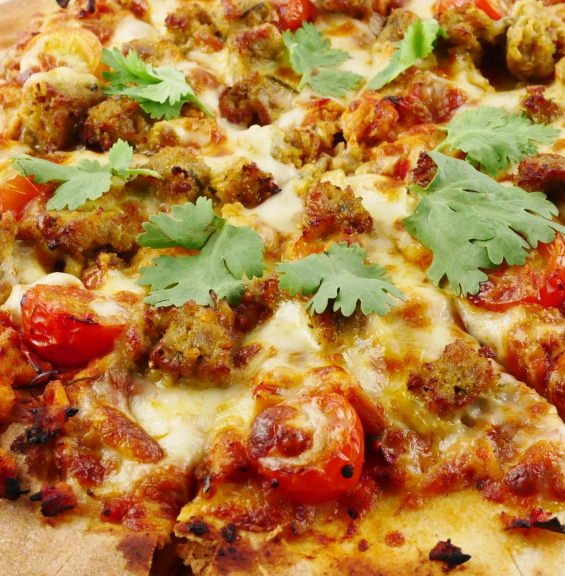 Pizza Players
Operators
The pizza category is poised for continued growth. Despite some of the momentum of 2020 slowing, the top pizza chains continued to see growth well into Q4 2021. Additionally, the LSR pizza category grew 7.5% in 2021, which means annual sales increased over the last three years. While the affordability and craveability of pizza is a benefit, in order to continue growing, pizza chains will need to find ways to successfully address industry challenges such as labor costs.
What's Next
While variety is important, innovating with simplicity in mind can help to keep costs down both from an ingredient and labor perspective. Also adding or maintaining curbside pickup or in-store pickup areas for takeout can help appeal to those who are forced to cut back on delivery as inflation rises, since delivery often incurs extra fees.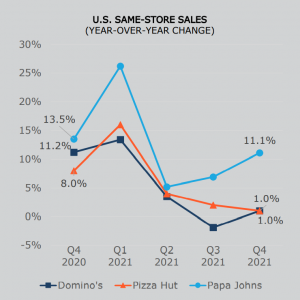 Source: Technomic Ignite Company
Delivery Rivalry
Consumer
Competition with third-party delivery will intensify. Third-party delivery services are gaining share of pizza delivery occasions. About a fourth of delivery orders (24%) are placed via third-party service vs. the restaurant itself. This is up from 16% in 2020. As consumers become more reliant on these services, behaviors are shifting, especially among younger consumers.
What's Next
Pizza concepts need to decide if they want to compete with their own delivery service. While in-house delivery is still higher in consumer preference, innovating delivery order-and-pay processes can establish brands as a best-in-class delivery provider. Offering advantages such as lower delivery fees or options only available through in-house delivery may help boost brand loyalty.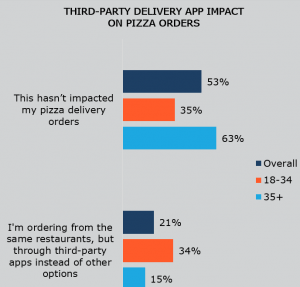 Base: Approx. 780 consumers who eat pizza
Source: Technomic 2022 Pizza Consumer Trend Report
Beyond Pizza
Menu
The success of pizza chains compared to other categories has left many with the room to introduce new items, while at the same time exposing menu opportunities through cross-utilization of ingredients. Bread-based snackable foods, dips and desserts are among the latest signature items being introduced beyond pizza. Domino's has been heavily promoting its oven-baked dips, available in both sweet and savory varieties.
What's Next
Operators will increasingly work with suppliers to discover new ways to use products that they already have on hand. Expect more of these types of items to be rolled out, either as permanent menu options or craveable LTOs.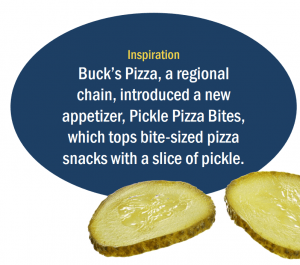 Source: Technomic 2022 Pizza Consumer Trend Report
Global Influences
New Items
Pizza flavor innovation is taking note from a variety of cuisines. Cuisine fusions have been popular on menus but continue to see new innovation and flavor combinations on pizzas. MOD Pizza rolled out a Jasmine Pizza LTO, with pesto, red Thai curry chicken, pineapple, shredded mozzarella and a Sri-rancha drizzle.
What's Next
Expect to continue to see new fusions or expanded flavor combinations on pizza. The versatile format makes it ideal for continued innovation.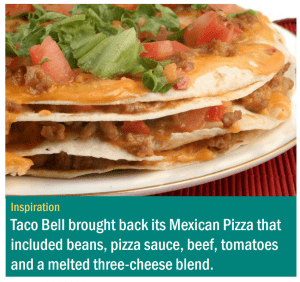 Source: Technomic Ignite Menu
Brand Collaborations
Global
Collaborations—the fusion of marketing and menu innovation—have been a staple in many parts of the world for years. They have been particularly resonant in the pandemic era as a means to stand out amid dizzying competition. KFC and Pizza Hut have been offering a collab of fried chicken pizzas in the U.K. and other countries.
What's Next
Brand collabs can drive menu excitement without necessarily creating new products. Partnerships with connected brands or trending ingredients like fried chicken can help provide buzz and marketing for all the brands involved. Additionally, pizza is a familiar and craveable item in many parts of the world, likely making it a comfortable format for consumers who may want to try trendy ingredients.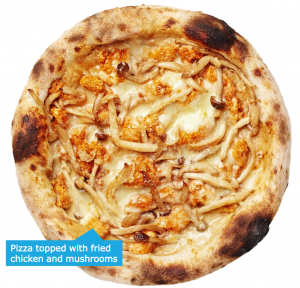 Source: Technomic Global Foodservice Navigator Program