Vegetable Pasta and Crispy Prosciutto Ham and Gorgonzola Cheese Salad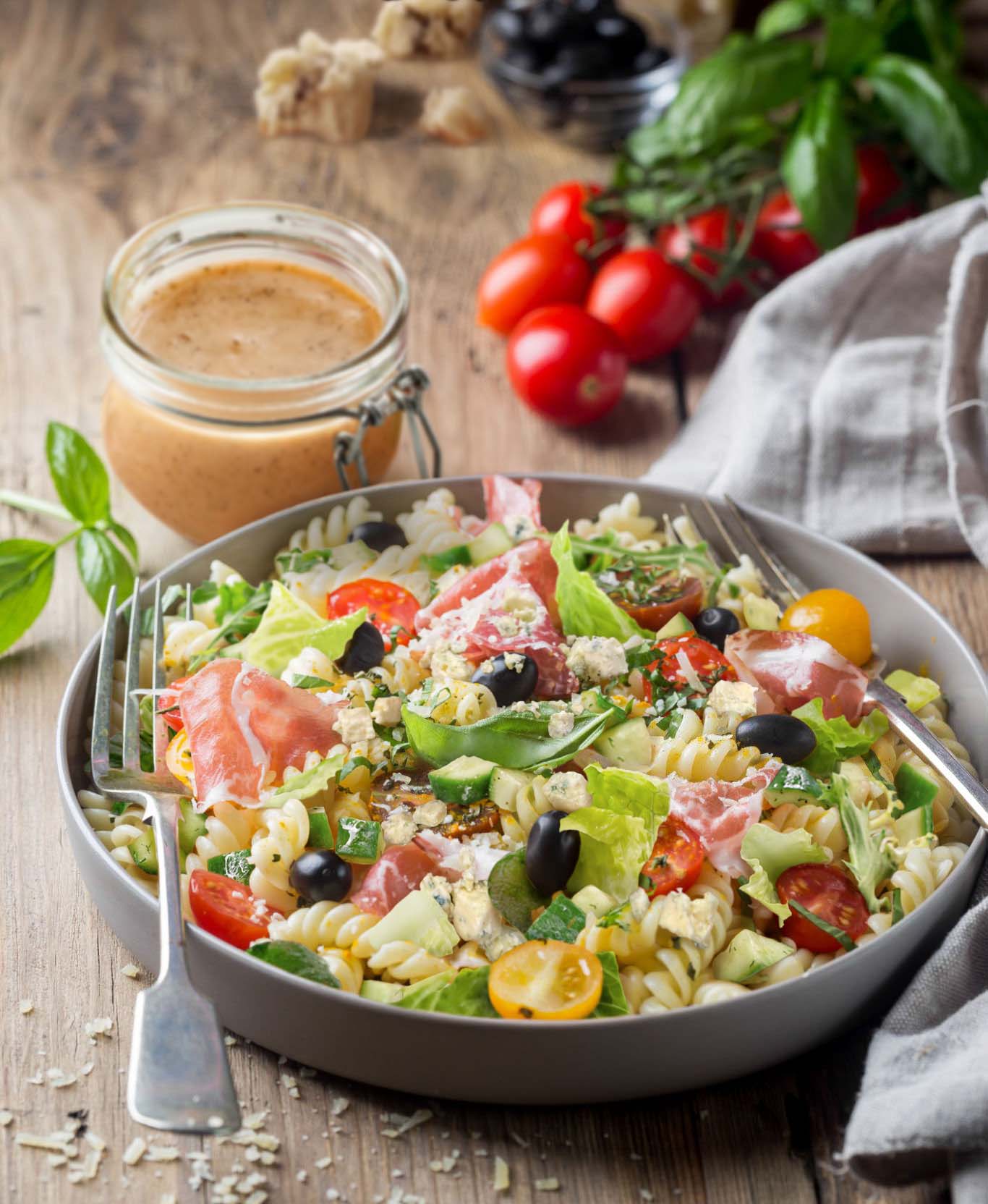 Vegetable pasta, prosciutto ham, and gorgonzola cheese give this salad a strongly salty and distinctly Italian flavor that will stand out even in a crowded salad menu.
Ingredients:
Roasted Garlic Italian Vinaigrette recipe -

-

Hidden Valley Creamy Garlic Italian vinaigrette - 1

quart

Roasted garlic, prepared - 1

Cup

Fresh basil leaves - 1

Cup

Heirloom tomatoes, halves - 1/2

Cup

Cucumber, diced 1/2" - 1/4

Cup

Romaine hearts, cut 1" - 1

Cup

Vegetable Pasta- cooked - 4

oz.

Kalamata olives-halves - 1/4

Cup

Gorgonzola cheese-crumbles - 1/4

Cup

Roasted garlic Italian vinaigrette - 2-1/2

oz.

Crispy Fried Prosciutto Ham - 1/4

Cup

Mixed Greens - 2

Cups
Preparation:
Mix the Italian vinaigrette, fresh basil and roasted garlic together in a clean bowl and blend well with an immersion blender.

Place the roasted garlic vinaigrette in a clean container and hold in the refrigerator until needed.

Place all of the ingredients in a mixing bowl except for the crispy Prosciutto ham and Gorgonzola cheese. Toss gently and place on the plate/bowl. Mound the salad high on the plate/bowl.

Finish the salad with sprinkling the Gorgonzola cheese and Prosciutto ham over the top of the salad.
Serving Suggestions: this salad can be shared, served as an appetizer/starter, have a protein added to the salad to finish it off as an entrée