Southern Smoked Pork, Black Eye Peas and Collard Green Soup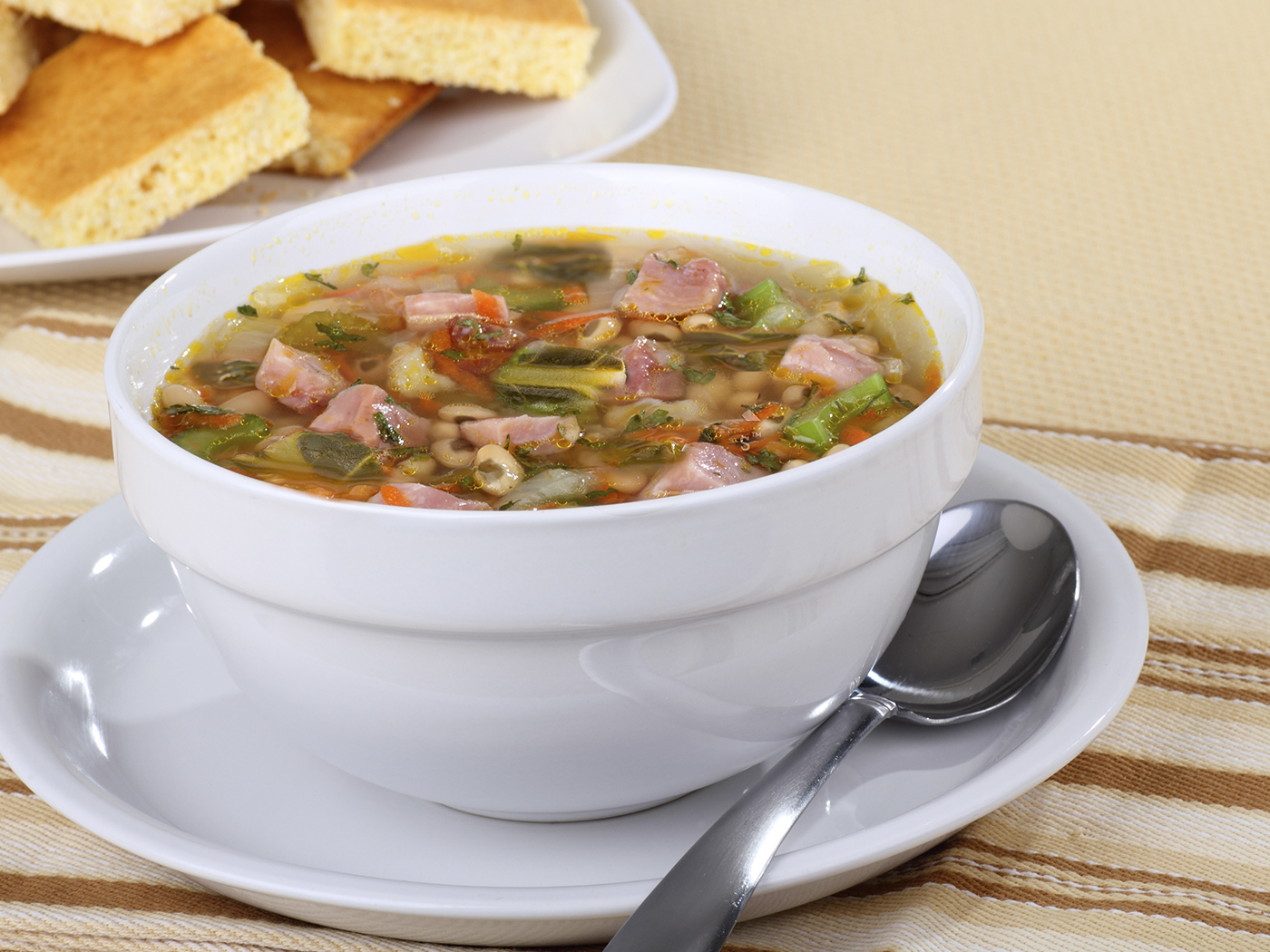 Smoked ham hocks and collard greens make up the flavor foundation of this simple yet filling soup. Serve up this sensational recipe and treat your guests to a steaming bowl of Southern comfort.
Ingredients:
SunGlow, Liquid - 1

Cup

Smoked ham hocks - 8

each

Water - 3

gallon

Garlic, chopped - .5

Cup

Classic Gourmet Ham base - 6-8

tbs.

Smoked pork, diced 1/2" - 5

lbs.

Black eye peas, cooked - .5

gallon

Collards greens, wash, cut 1"strips - 12

Cups

Onions, yellow, julienne 1/2" - .5

gallon

Carrots, cut 1/2" half-moon, bias - .5

gallon

Celery, cut 1/2" bias - .5

gallon

Thyme, fresh, chopped - .25

Cup

Salt and pepper mix - As needed
Preparation:
In a large pot place the Liquid SunGlow and heat till hot and add in the smoked ham hock. Brown off the ham hocks on all sides. Add in the water, garlic, and ham base. Let cook for 1 hour.

Pull out the ham hocks and cool. Cut the meat off the ham hocks and place it back in the pot.

Add in the remainder of the ingredients and let cook for 30-45 minutes on a low temperature on the stove.
Occasionally stir the soup so the beans are not burning on the bottom.

Add salt and pepper as needed for added flavor.

When the soup is completed pour into a clean storage container and refrigerate until needed.
Serving Suggestions:
What I did for the garnish for the top of soup was sprinkle some chopped fried crispy chicken skin or if chicken skin is not available use pork cracklings (fried pork rinds) in the potato chip isle. It's more easy and quick!