Seared Tuna Steak and Lemongrass Skewered Shrimp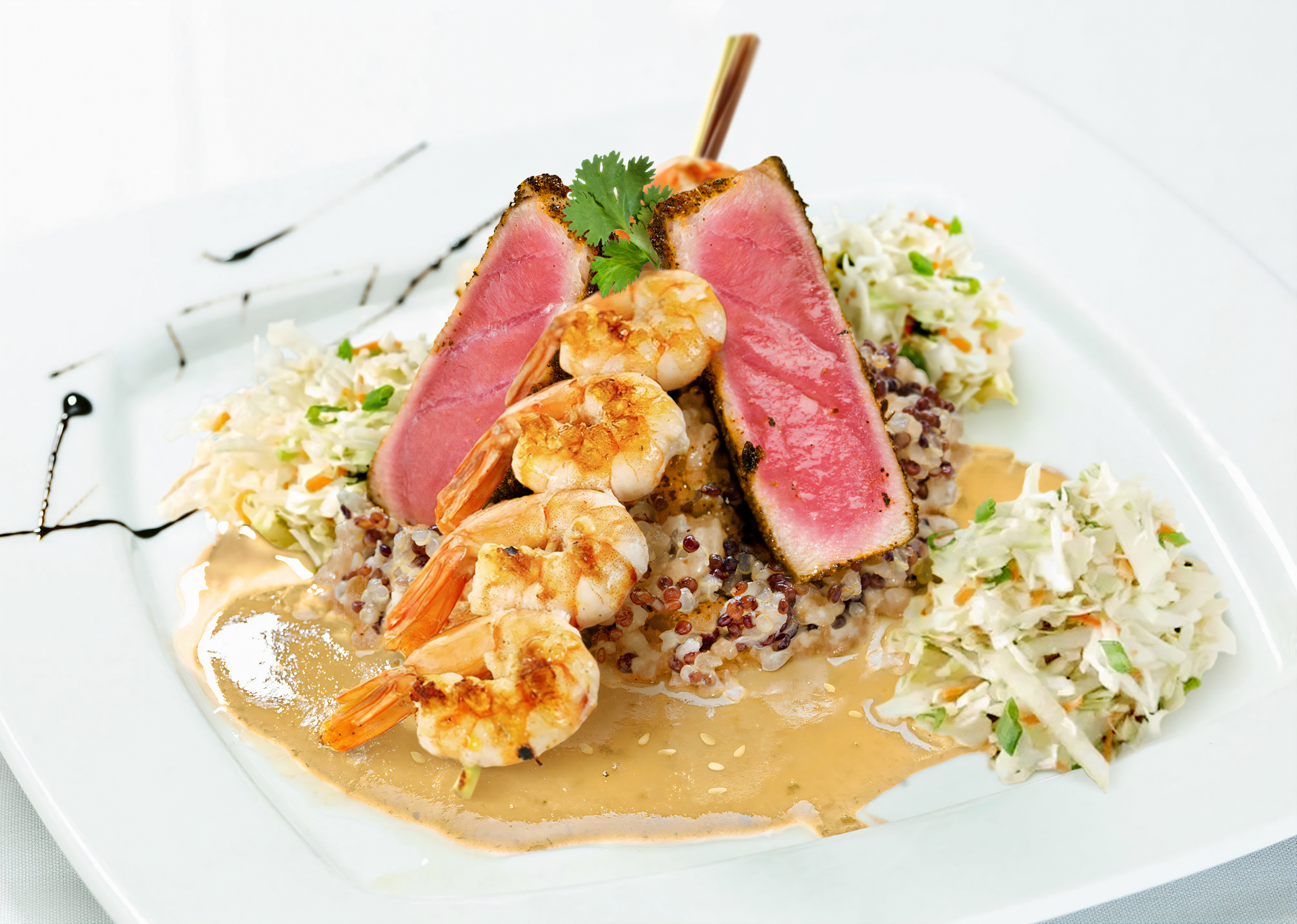 This simple recipe for seared tuna steaks complements the meat with tart lemongrass for fresh and flavorful fish that's easy to make and incredible to eat.
Ingredients:
Ginger cream sauceSee recipe below - 3

oz.

Ahi Tuna steak - 7

oz.

Quinoa brown rice-prepared - 1

Cup

Salt and pepper mix - As needed

As needed

Cilantro sprig - 2

each

Shallots, chopped - 1

tsp.

SunGlow, cubes - 1

oz.

Ginger Cream Sauce recipe -

-

White wine - 2

oz.

Cream, heavy - 2

oz.

Hidden Valley Sesame Asian dressing - 2-3

oz.

Phase, LBA - 1

oz.

Lemon Grass skewered shrimp (3) 16-20 shrimp on skewer - 1

each

Asian Pear- Carrot Slaw - 3

oz.
Preparation:
Heat a sauté pan with Phase, season the tuna with salt and pepper on both sides. Sear the tuna for 30 seconds each on both sides. At the same time place the skewered shrimp on the grill and cook until pink on both sides.

Cut the tuna on a bias and hold. On the plate put 1 cup mold of the quinoa brown rice in the center and sauce the place around the rice. Place the slaw at 12, 4 and 7 o'clock in (1 oz. ea.) small mounds.

Stack the tuna in an "X" fashion on the rice and lean the skewer of shrimp so it is leaning on the tuna in the center of the "X".

In a saucepan reduce the shallot and white wine to 1/2. Then add in the cream. Reduce until it coats the back of a metal spoon well.
Pull off the stove and strain the cream into a clean storage container. Add in the sunglow and blend until melted. Finish by adding in the sesame ginger dressing.