Seared Salmon Pasta Salad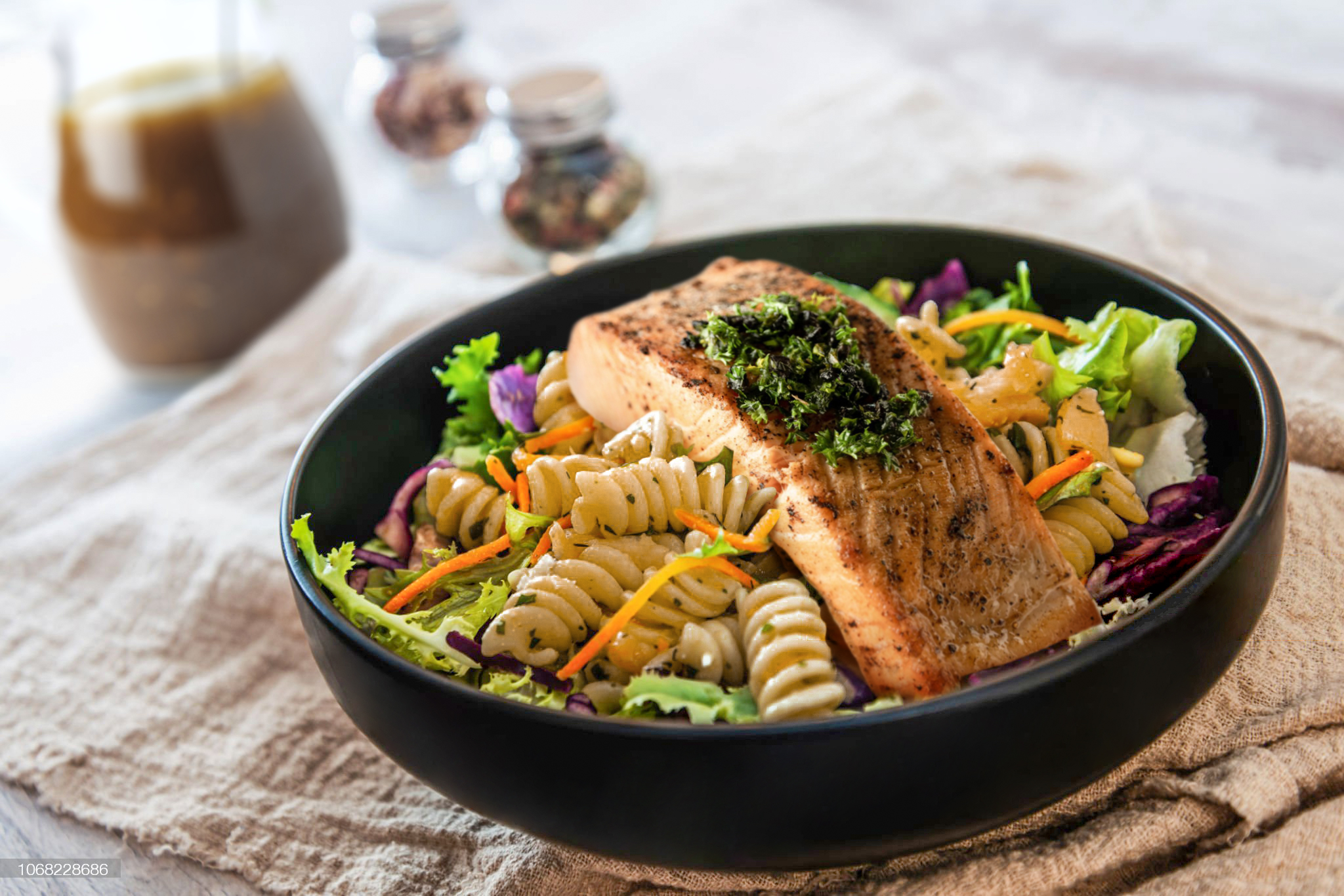 For restaurants looking to fit more seafood into their side menus, this simple recipe fills that role admirably. Just add some finely seasoned seared salmon to a plate of creamy pasta salad to create this exquisite offering that customers will be eager to try.
Ingredients:
Mesclun mix - 1

cups

Diced tomatoes - 2

tbs.

Micro greens - 1

tbs.

Cajun spice - 2

tsp.

Julienne vegetables, assortment - 3

oz.

Cajun seared salmon fillet - 6

oz.

Cooked wheat pasta - 4

oz.

Hidden Valley® Light Balsamic Vinaigrette - 1

quart

Basil, fresh, leaves - 2

Cups
Preparation:
Place the 1 quart of Hidden Valley® Light Balsamic Vinaigrette and basil leaves in a mixing container and using an immersion blender combine the 2 ingredients together until a smooth consistency is achieved. Place the completed dressing in a clean container, and place in the refrigerator until needed.

Sprinkle 1 tsp. of Cajun spice on the salmon on each side and sear in a hot sauté pan on both sides.

Cook the fish until it reaches 145F. degrees and hold until needed.

Take the pasta, mesclun mix lettuce, and julienne vegetables and toss well together with 1 oz. of dressing and place it on the plate in the center. Place the salmon atop the pasta.

Place the 1 tsp. diced tomatoes at 12, 3, 6, and 9. Drizzle the remainder vinaigrette over the top of the fish.
Garnish with micro greens on the salmon.