Sauce Craft Caribbean Jerk Crab Hush Puppies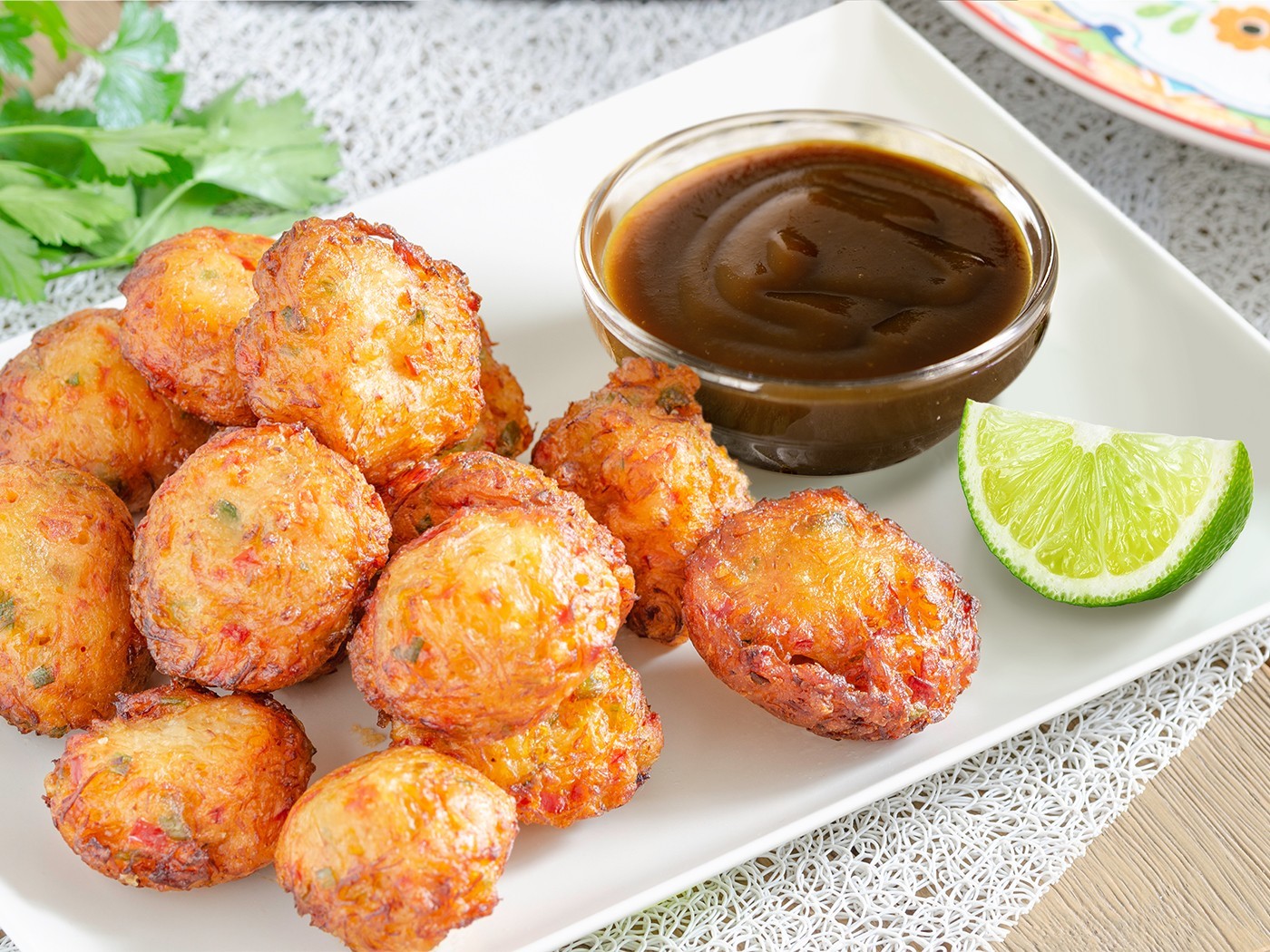 A classic Southern recipe, these delightfully crispy balls of deep-fried crab meat are popular, simple to make, and perform splendidly as a side dish for a seafood or BBQ centric menu.
Ingredients:
Flour,all purpose - 3/4

Cup

Corn meal - 3/4

Cup

Sugar, granulated - 1

tbs.

Baking powder - 1-1/2

tsp.

Salt, kosher - 2

tsp.

Garlic powder - 1/2

tsp.

Onion powder - 1/2

tsp.

Paprika - 1/2

tsp.

Pepper, black ground - 1/4

tsp.

Egg, whole - 1

each

Buttermilk - 1

Cup

Sunglow, cut into small cubes - 4

oz.

Blue Crab Meat - special, claw, or lump - 8

oz.

Green Onions - chopped - 1/2

Cup

Green Onions, sliced - 1/4

Cup

Lime Wedge - 8

each

Creamy Caribbean Jerk-Mustard Sauce - 4

oz.

Creamy Caribbean Jerk-Mustard Sauce -

Sauce Craft Caribbean Jerk Sauce - 1

Cup

Stone Ground Mustard, (or Dijon) - 1

Cup

Classic Gourmet Mayonniase - 2

Cups
Preparation:
Combine the first 12 ingredients together and mix unil well incorported. Then add in the crab meat and chopped green onions to the batter and fold until well incorporated.

Heat oil in the fryer to 350F-degrees and use a small 2-oz. ice cream scoop to drop batter into the oil - fry until golden brown & the balls float - remove to the rack and drain off any excess oil.

Combine the Sauce Craft Caribbean Jerk sauce, mayonnaise and Mustard in a mixing bowl and blend well. Refrigerate for at least 1 hour before using.

Serve the fried hush puppies with a side of creamy Caribbean Jerk Mustard Sauce for dipping and serve with a lime wedge.