Roasted Tomato-Meatball Soup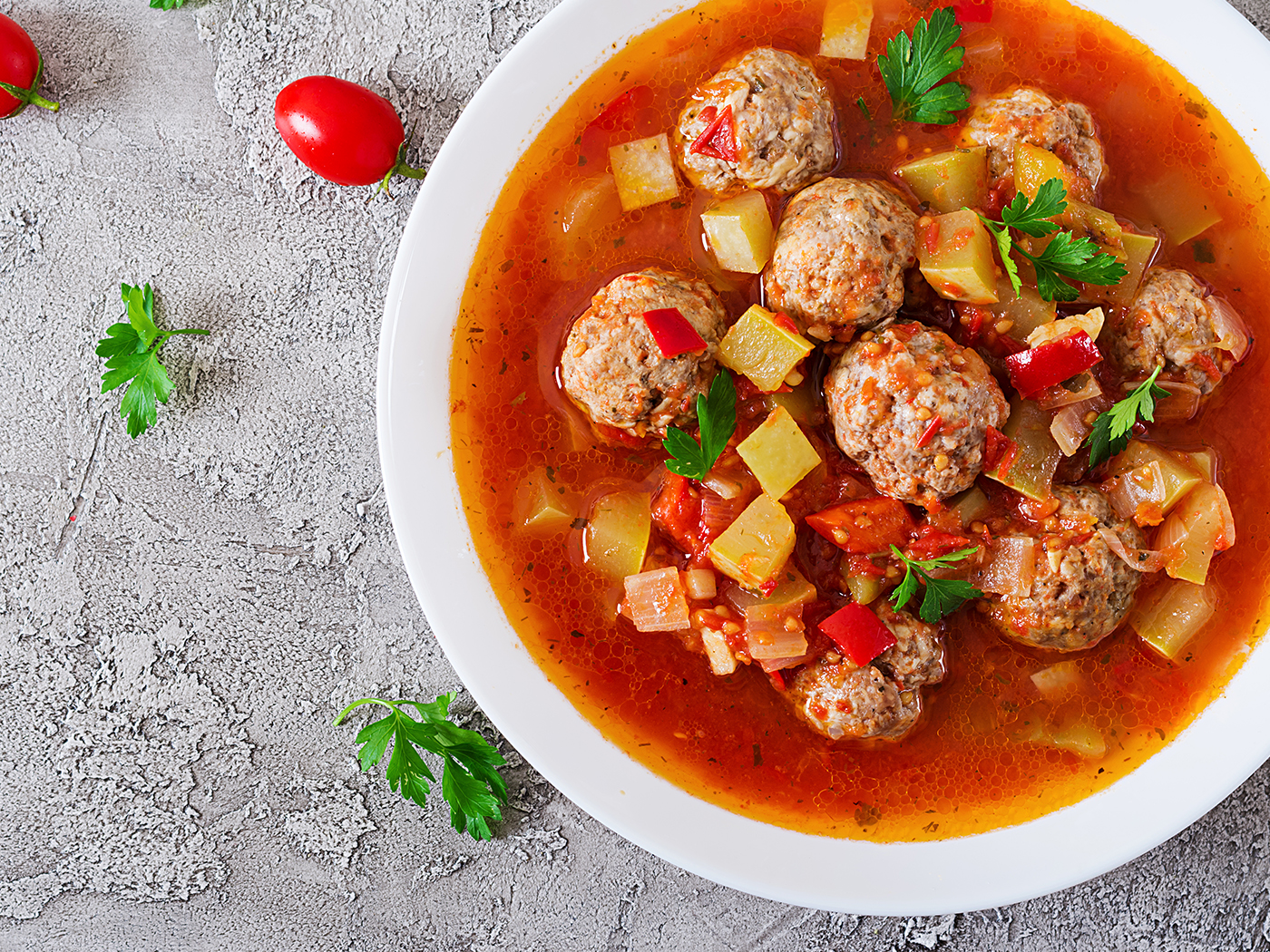 Nothing says comfort like a steaming bowl of roasted tomato and meatball soup on a cold day. Nutritious vegetables and tasty mini meatballs make for a well-balanced menu item that's easy to make and amazing to eat.
Ingredients:
Classic Gourmet Beef base - 4

oz.

Classic Gourmet Chicken base - 4

oz.

Water - 2

gallon

Garlic fresh, chopped - .5

Cup

Celery, diced 1/2" - 1

quart

Onion, diced 1/2" - 1

quart

Carrot, diced 1/2" - 1

quart

Roma tomatoes, roasted/smashed - 5

lbs.

Tomato puree - 3

quart

Leeks whites, washed 1/2" - 1

quart

Potatoes, diced 1/2" - 1

quart

Zucchini, diced 1/2" - 1

quart

Salt and pepper mix - As needed

Mini meatballs-precooked 1/8th oz. - 2-3

lbs.

Fresh basil, chopped - 2

Cups

Sunglow Liquid Butter Blend - 1-2

Cups
Preparation:
In a pot heat Liquid Sunglow and sauté all the vegetables except for the potatoes and zucchini.

Place the water, tomato puree, and both chicken & beef bases in the pot and bring to a boil.

Once a boil has been achieved turn the stove down to a medium temp and allow to simmer for 30-45 minutes. Add in the roasted tomatoes and potatoes carefully to avoid the ho broth from splashing onto you.

As the 45 minutes point, approaches add in the zucchini and adjust the seasoning with salt and pepper. Cook for an additional 10 minutes and turn off.

Lastly, add in the cooked meatballs and fresh chopped basil.
Chef Tip:
Roasted tomatoes- place tomatoes onto a baking pan and roast in the oven until the tomato blisters or the skin starts to break.