Roasted Sweet Potato Farro, Bacon and Field Greens Salad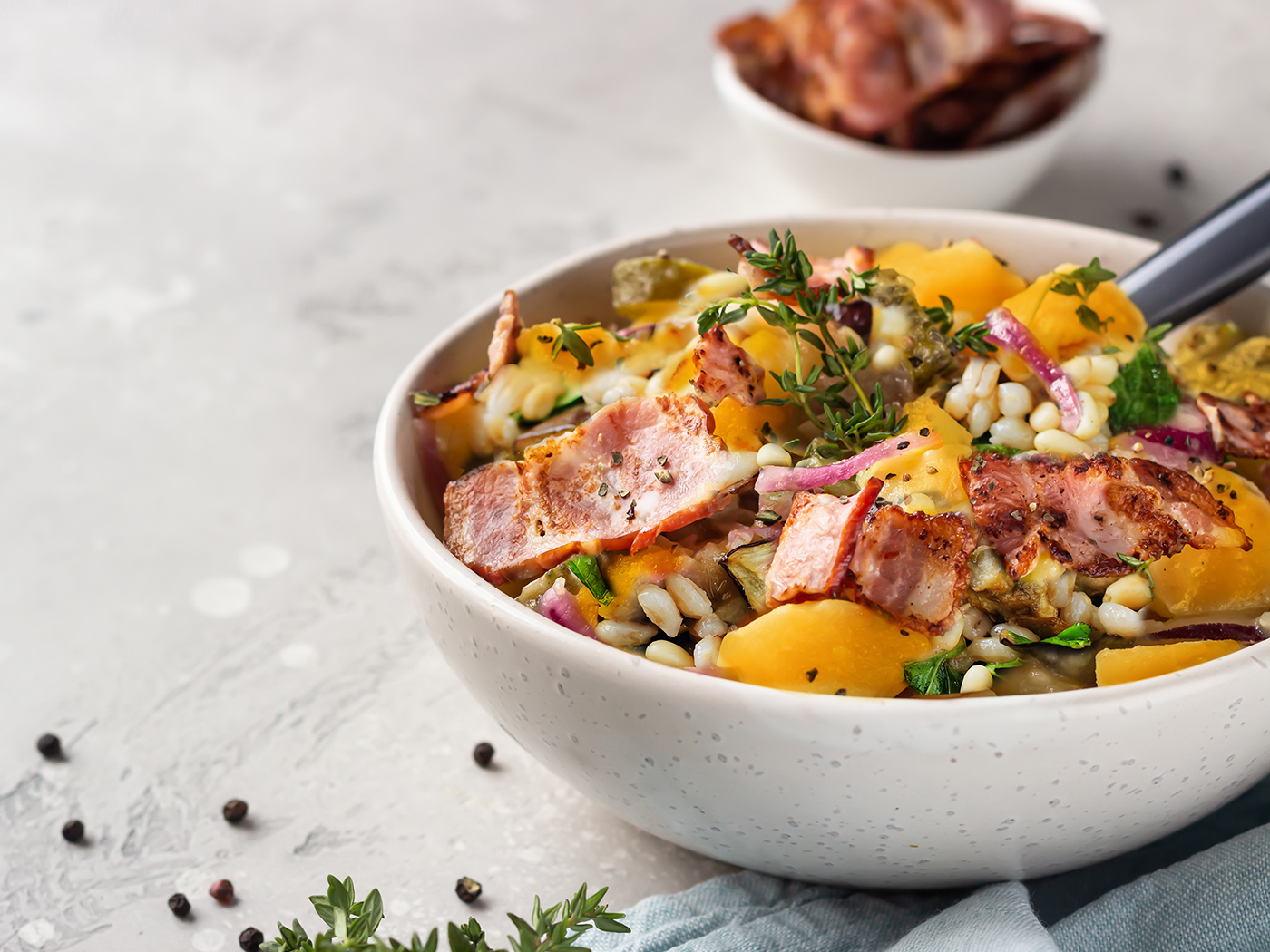 Healthy dining doesn't have to be boring dining. This robust salad is packed with essential nutrients from the sweet potatoes and garden green with just a pinch of bacon for flavor. For those seeking food that's as good to the taste buds as it is for the body, this savory salad is sure to satisfy.
Ingredients:
Marie's Balsamic vinaigrette - 6

oz.

Maple syrup - 3

oz.

Cooked Farro - 3

Cups

Classic Gourmet Mayonnaise - 4

oz.

Field Greens, cleaned - .25

gallon

Toasted pecans, chopped rough - 1

Cup

Red onions, julienne 1/4" - 1

lb.

Sweet potatoes, roasted 1" cubes - 5

lbs.

Bacon, peppered cooked/crisp cut into 1" squares - 2

lbs.

Salt and pepper mix - as needed
Preparation:
Take 2 clean bowls and split all of the salad ingredients except for the nuts, maple syrup Balsamic vinaigrette , mayonnaise and salt and pepper evenly.

In a another mixing bowl take the Balsamic vinaigrette, honey and mayonnaise and blend together. Add in salt and pepper if flavor is needed.

Equally divide the dressing between the 2 salads evenly. Toss the salads gently. On a serving platter place the greens as a base then put all of the other ingredients on top of the greens and mound tall. Sprinkle with the nuts to finish.