Roasted Corn Chowder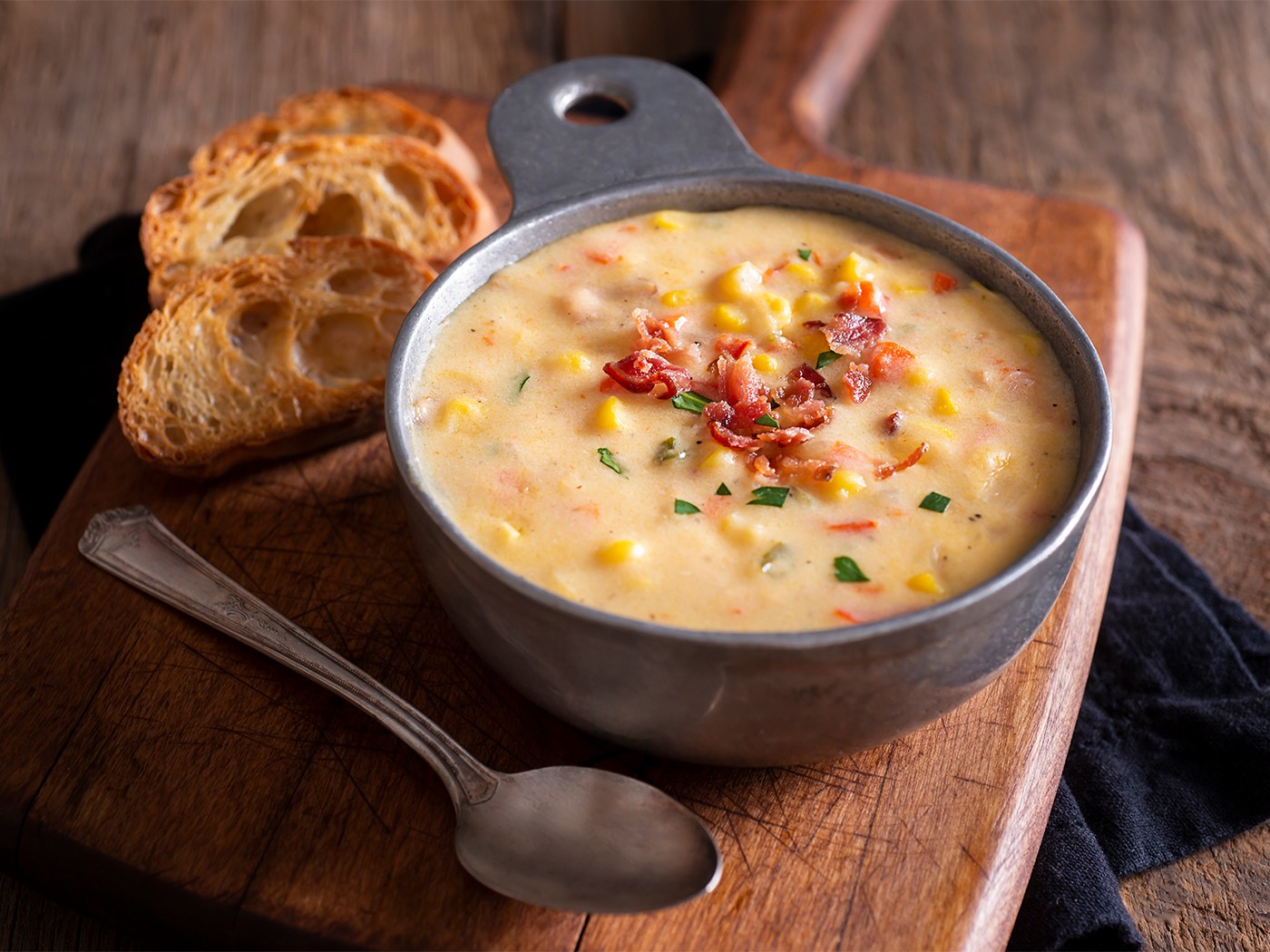 Roasted corn, bacon, bell peppers, onion come together in this savory soup that will have customers singing your praises. A simple substitution of bacon for a plant-based alternative allows this versatile recipe to be easily adapted for a vegetarian menu as well.
Ingredients:
Heavy cream - 1

quart

Cayenne pepper sauce - 2

tbs.

Classic Gourmet Roasted Vegetable Base - 8

oz.

Roasted corn kernels - 5

lbs.

Roux-prepared - 1

lb.

Garlic, chopped - .5

Cup

Bay leaves - 3

each

Celery, diced 1/4" - 4

Cups

Onion, diced 1/4" - 4

Cups

Salt and pepper mix - As needed

Potatoes, diced 1/4" - 4

Cups

Bell pepper, diced 1/4" 1/4 " - 4

Cups

Bacon, uncooked, diced - 2

lbs.

Phase, LBA - .5

Cup

Water - 2

gallon
Preparation:
In a pot heat the Phase and sauté the bacon until brown. Add in the chopped garlic and all the vegetables including bay leaves. Cook the vegetables except for the potatoes until translucent and add the water and chicken base. Bring to a boil, then turn down to medium heat. Cook for 15 -20 minutes
After 20 minutes of cooking has completed. Add in the roux and blend in the liquid until blended completely. Allow to thicken, then add in the potatoes. Cook for an additional 20 minutes and check the potatoes for tenderness.
Add in the cream, cayenne pepper sauce and salt and pepper as a last step to finish the soup.