Ohana Burger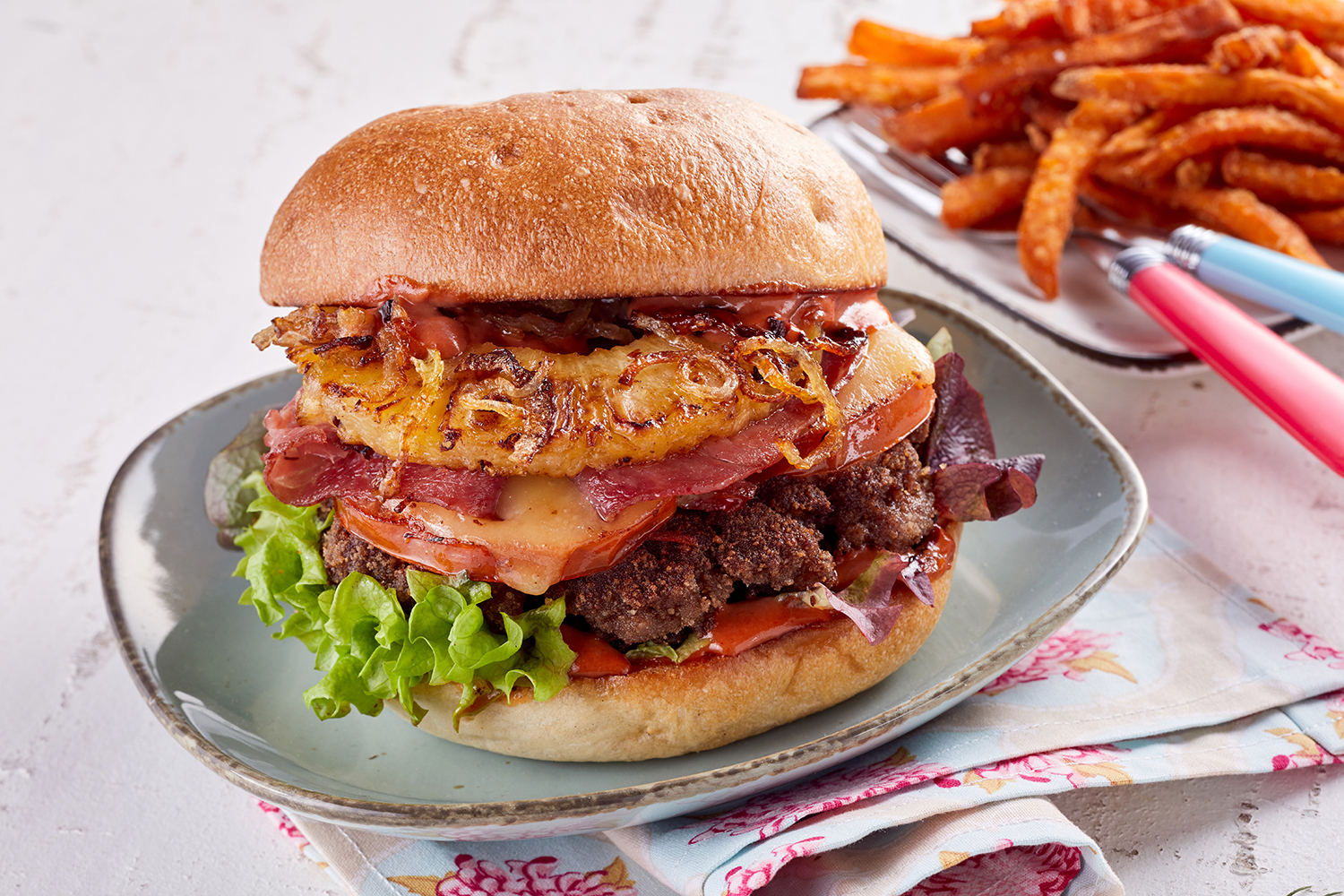 Featuring the savory and tender meat that makes Hawaiian cooking world-renowned, the Ohana burger takes your customers on a trip to food paradise with every bite.
Ingredients:
Sauce Craft™ Teriyaki Sauce - 1

oz.

Salt and pepper mix - 1/4

tsp.

Bacon cooked, crisp - 2

slice

Bun, toatsed - 1

each

Burger, 8oz patty - 1

each

Swiss cheese, sliced - 1

each

Arugula, fresh - 1/4

Cup

Pineapple slice fresh, 1/2" - 1

each

Spicy Avocado Bacon Lime Mayonnaise - 1

oz.
Preparation:
Season the burger on both sides and place on the char boil to cook. Cook until the burger achieves the internal temp of 135F. degrees.

Toast the bun to a golden brown. Place the pineapple on the grill and mark it on both sides until it gets a nice char.
Place the toasted buns on the plate, on the top bun spread the mayonnaise, on the bottom bun place the burger with the melted cheese, layered with bacon crisscrossed, topped with pineapple.
Drizzle the pineapple with the teriyaki sauce and top with arugula. Close the burger with the top bun.
Subrecipes:
Spicy Avocado Bacon Lime Mayonnaise
Ingredients:

Avocado pulp fresh , puree -

Cup

1
Classic Gourmet® Select Real Mayonnaise -

Cups

2
Lime juice, fresh -

Cup

.25
Salt and pepper mix - As needed
Serrano chili, seeded, chopped -

Cup

.5
Cilantro, fresh, no stems, chopped -

Cup

1
Bacon cooked crisp, chopped, small -

Cup

1
Instructions:

In a clean mixing bowl incorporate all the ingredients except for the salt and pepper and combine well.

Taste the sauce and add in the salt and pepper as needed to enhance the flavor if needed. Pour the completed sauce into a clean storage container and refrigerate it until needed.