Muffalatta Italian Salad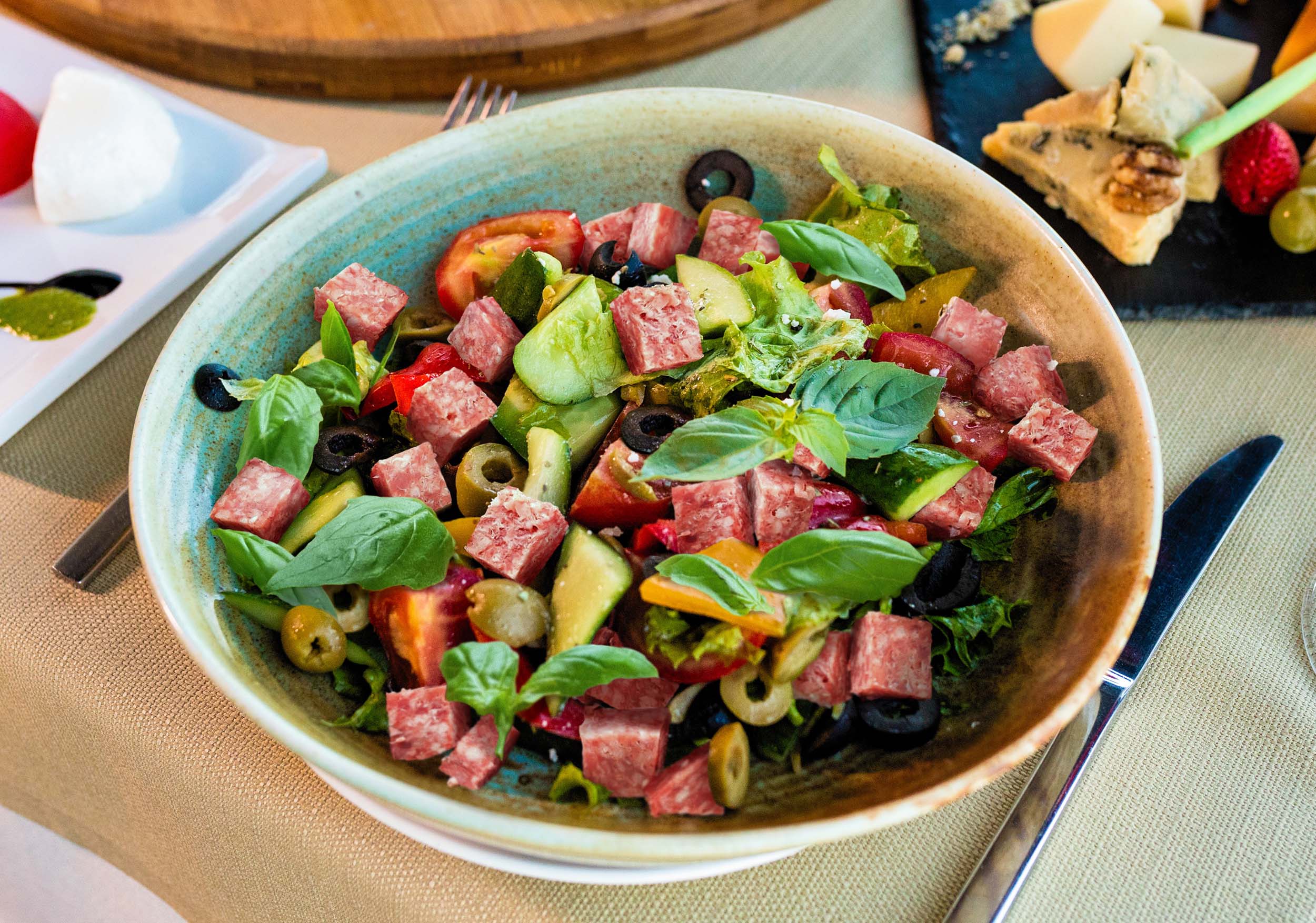 With its distinctive olive flavor, this muffuletta Italian salad offers customers a satisfying and uncommon culinary experience while chefs benefit from a fancy recipe that's fast and easy to prepare.
Ingredients:
Smoked Mozzarella cheese - 3

slice

Mortadella, sliced - .75

oz.

Olive salad, prepared - 2

tbs.

Hard- boiled egg, cut in half - 1

each

Whole grain mustard - .25

Cup

Baby Iceberg lettuce, cut in half - 1

each

Capricola ham, sliced - .75

oz.

Grilled focaccia, sliced - 1

each

Tomatoes, heirlooms, diced - 2

tbs.

Prosciutto ham, sliced - .75

oz.

Whole Grain Mustard Italian vinaigrette - 2.5

oz.

Marie's Italian vinaigrette - 1

quart

Bacon, chopped - 2

tbs.

Red peppers, random cut - 4

each
Preparation:
On the serving plate place both halves of the iceberg lettuce on the plate and start shingling the meats over the iceberg.
Place the diced tomatoes and peppers at 12 o'clock. Place the sliced smoked mozzarella cheese fanned out at 2 o'clock
Place the bacon and the olive salad at 6 o'clock
Place the hard -boiled egg cut in half in the center shingled and tuck the grilled focaccia bread at 3 o'clock.
Serve the vinaigrette in a shot glass on the side.
Serving Suggestions: this is definatly a knife and fork kind of salad. The baby Iceberg cab be substituted by using small heads of hearts of romaine as well and prepare the same way by splitting the head in half lengthwise.