Mediterranean Grilled Shrimp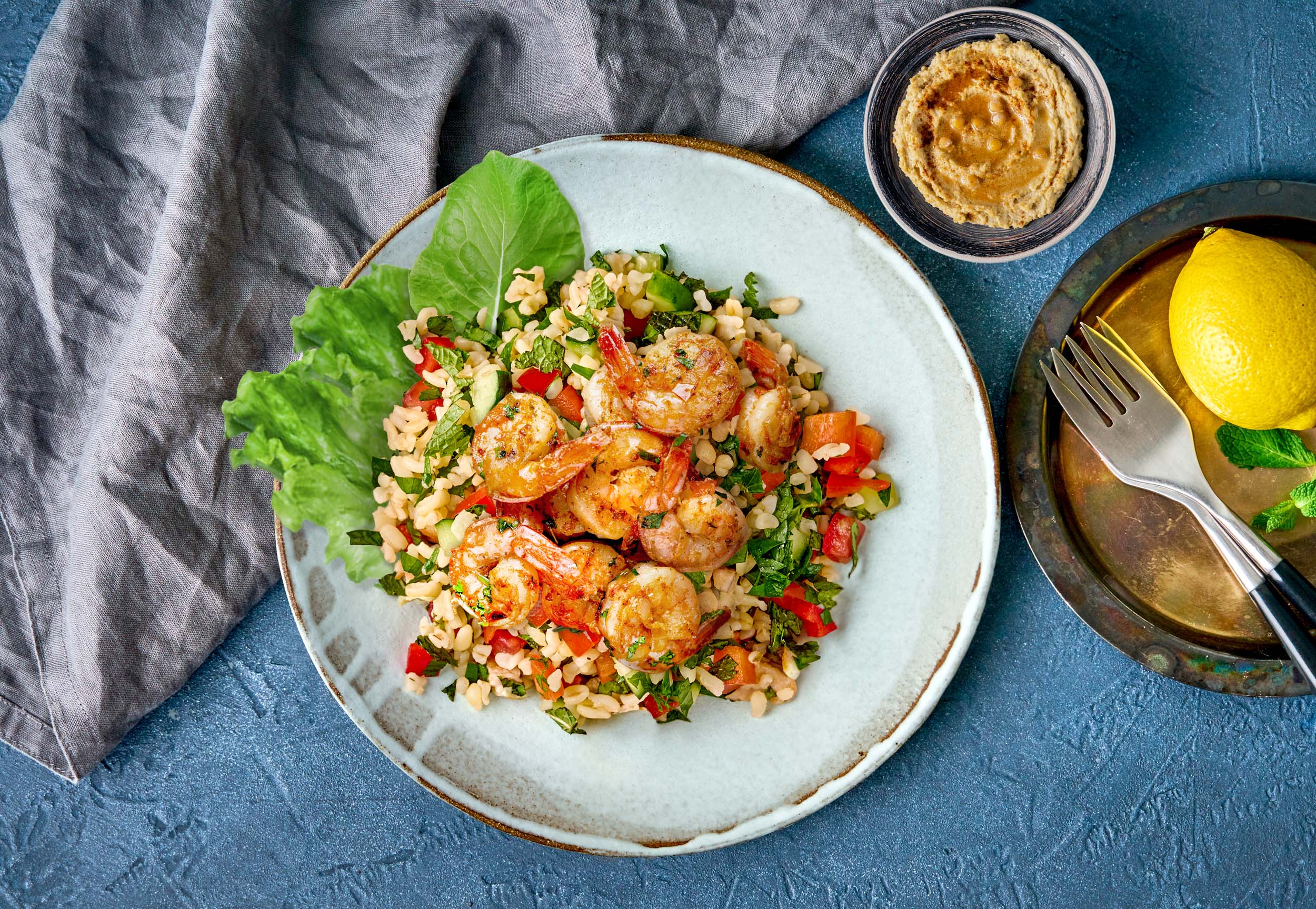 Featuring juicy jumbo shrimps grilled in a tasty Mediterranean marinade, this simple seafood entrée is easy to prepare and a certain crowd pleaser.
Ingredients:
Romaine hearts, leaves - 5

each

Spicy Hummus- prepared - 1

Cup

Brown Rice, Tabbouleh, prepared - 1

Cup

Grilled Shrimp, 16/20 marinated - 5

each

Mediterranean Shrimp Marinade - 3

oz.
Preparation:
Take the shrimp out of the marinade and grill on both sides trying to obtain some char marks and flavor. Grill until the shrimp get to a pink color and becomes opaque.
On an oval plate place 3-4 romaine heart leaves, then the brown rice tabbouleh.
On the base of the plate shingle the shrimp along the rice and place the spicy hummus.
Subrecipes:
Mediterranean Shrimp Marinade
Ingredients:

Hidden Valley Mediterranean Style Feta -

Cups

2
Garlic, chopped -

tbs.

4
Thyme, fresh chopped -

tbs.

2
Mint, fresh, chopped -

tbs.

3
Lemon juice, fresh -

Cup

.25
Salt and pepper mix - As needed
Onions red, diced small -

Cup

.25
Instructions:

Mix all the ingredients in a bowl and combine well.
When marinating the shrimp makes sure all surfaces of the shrimp are covered with the marinade.

Pour marinade into a clean container and hold it until needed in the refrigerator.
Serving Suggestions:
This can be served as a large appetize or can be a single portion. This also can have a protein added of your choice to create more of an entrée idea for a menu.
Don't forget to serve with some warm pita bread!