Kahlua Pork Teriyaki Sliders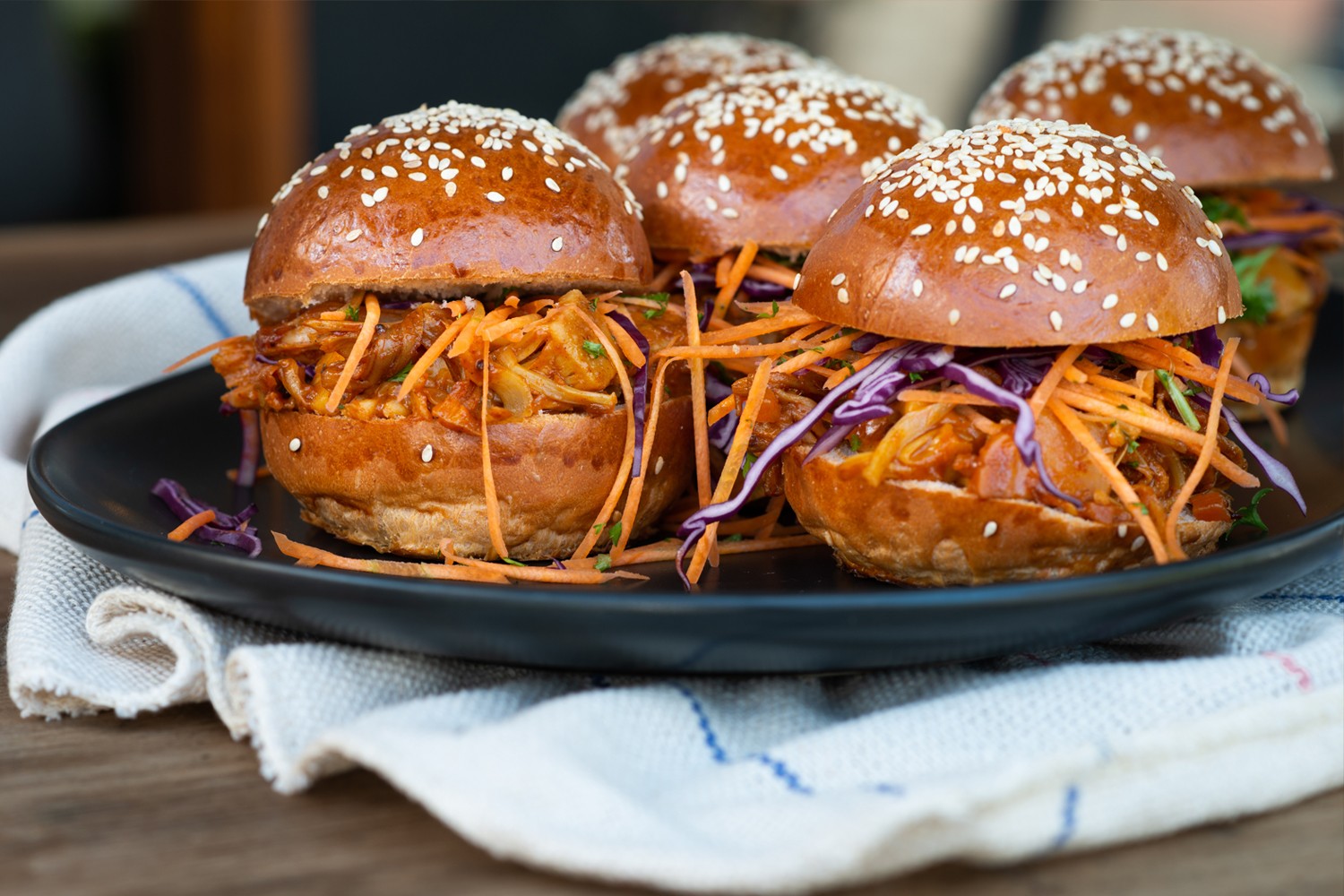 Featuring slow-cooked Kahlua pork simmered in Sauce Craft Teriyaki sauce, these pork sliders are deliciously tender and smoky, just like they make them in Hawaii.
Ingredients:
Pulled Pork, cooked, prepared - 8

oz.

Grilled pineapple slaw, prepared - 6

oz.

Slider bun, brioche - 4

each

Sauce Craft™ Teriyaki Sauce - 4

oz.

Wasabi Mayonnaise - 3

oz.

Asian Pork Shoulder - 8

oz.
Preparation:
Combine the pork, Teriyaki sauce and heat to 165 degrees. Toast the brioche buns on the flattop to a golden brown.
Divide the pork evenly over the 4 buns and top with the slaw.
Drizzle the wasabi mayonnaise on the slaw and top with the bun. Finish the sandwich with a wooden pick in the center and serve.
Subrecipes:
Wasabi Mayonnaise
Ingredients:

Classic Gourmet® Select Real Mayonnaise -

cups

3
Wasabi Powder -

tsp.

6
Water -

tsp.

6
Lemon Juice -

tsp.

4
Soy Sauce -

tbs.

3
Instructions:

Mix the water and wasabi powder to create a paste.

Mix all the ingredients together and combine well in a clean bowl.

Place the finished mayonnaise into a clean container and hold in the refrigerator until needed.
Asian Pork Shoulder
Ingredients:

Hidden Valley® Asian Sesame -

Cups

6
Sauce Craft™ Sweet Chili Sauce -

Cup

1
Pork Shoulder -

lbs.

20
Yellow Onion, Sliced -

Cup

1
Ginger, Sliced -

Cup.

1
Garlic, Whole, Peeled -

Cup

1
Jalapenos, whole, fresh -

each

4-8
Water -

gallon

.25
Instructions:

In a deep metal hotel pan, add all the ingredients together except for the pork.

Place the pork shoulder in the marinating mixture and cook for 12 hours at 275F. degree oven. Cover and cook with foil for 6 hours. For the remaining 6 hours, remove the foil and cook uncovered.

When the pork is done, pull it from the oven and remove it from the liquid and allow it to cool enough to handle. Once the pork is cool enough to handle, start to pull it into small shreds. When the pork is totally pulled, place it into a clean storage container, cover it, and hold it in the refrigerator.
Serving Suggestions: This can be served as a meal with a side item or can be shared as an appetizer.