Grilled Herbed Fingerling Potato Salad with Blue Cheese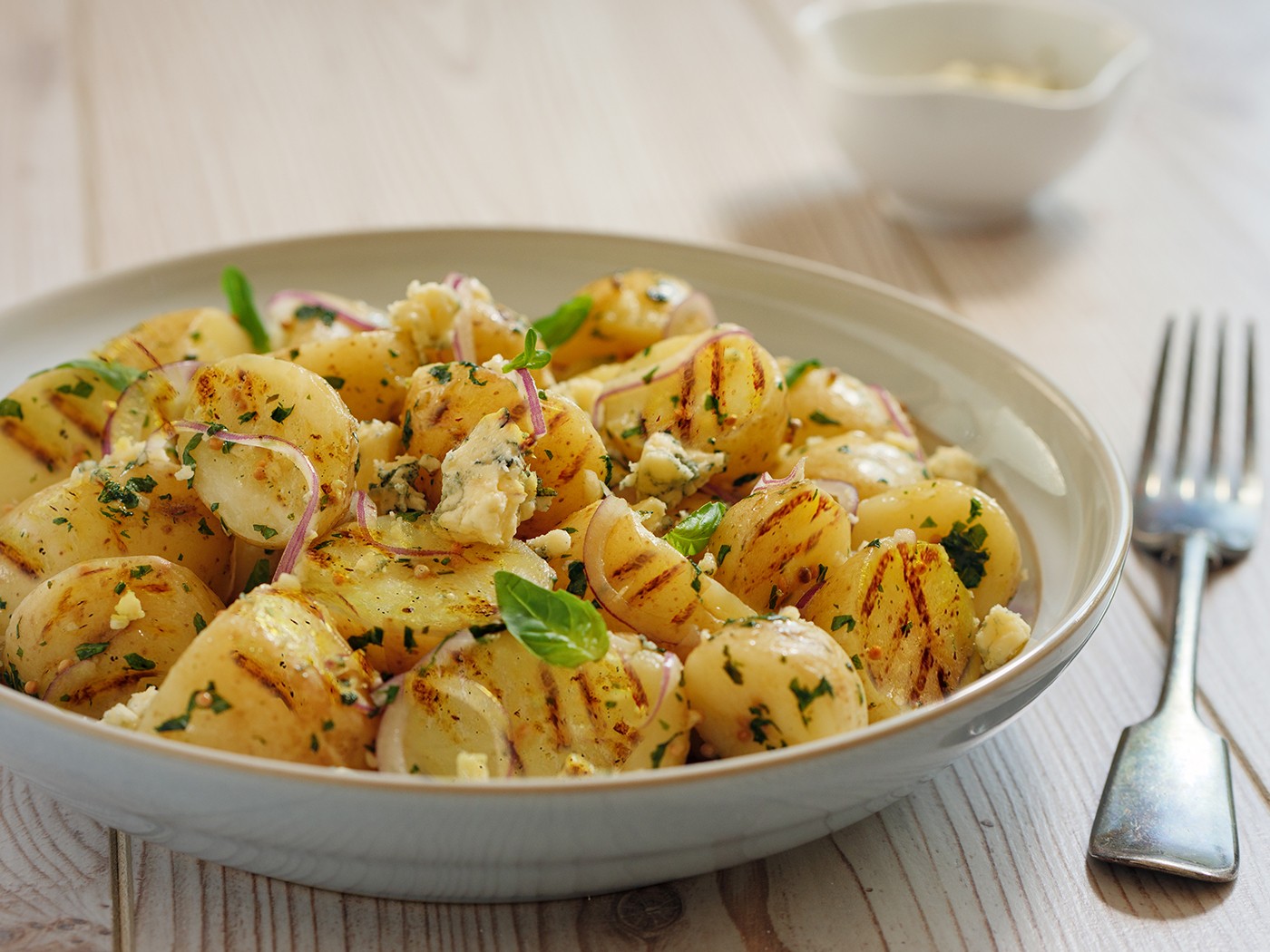 This original take on a staple side dish throws blue cheese into the mix for a stimulatingly original take on potato salad that embraces its creamy and cheesy side. A delicious side dish that compliments most any meal.
Ingredients:
Small fingerling potatoes - 1

lb.

Rosemary, fresh, fine chop - 2

tbs.

Olive oil - 2

tbs.

Salt and pepper, mix - as needed

Classic Gourmet Mayonnaise - .25

Cup

Olive oil - .25

Cup

Flat leaf parsley, chopped - 4

tbs.

Chives, chopped - 2

tsp.

Pickle relish - 3

tbs.

Salt and pepper Mix - as needed

Blue cheese crumbles - .25

Cup
Preparation:
Preheat the grill for high heat 400-450F. degrees. Season the potatoes with salt and pepper, olive oil, and chopped rosemary. Coat the potato well.

Place the potatoes on the grill. Sear on the grill making sure all sides have a char mark. Place on a lined sheet pan and cook in a 375F. degree oven for 20 min or until the potatoes are tender. Pull the potatoes out and allow them to cool.

Once the potatoes have cooled place in a clean mixing bowl and mix the remaining ingredients and reserve the blue cheese crumbles and 2 tbs. of the chopped parsley for the garnish at the end for on top.

Mix the potato salad together to ensure all the ingredients combine well. Place the potato salad on the desired serving dish and garnish with the crumbled blue cheese and chopped parsley over the top.
Serving Suggestions:
This salad currently doesn't have any meat. It can have chopped bacon, or diced ham to give it some smoky flavor. This is also is a good substitute for French fries on a sandwich or burger. You can also substitute another type of crumbled cheese.