Grilled Beet Salad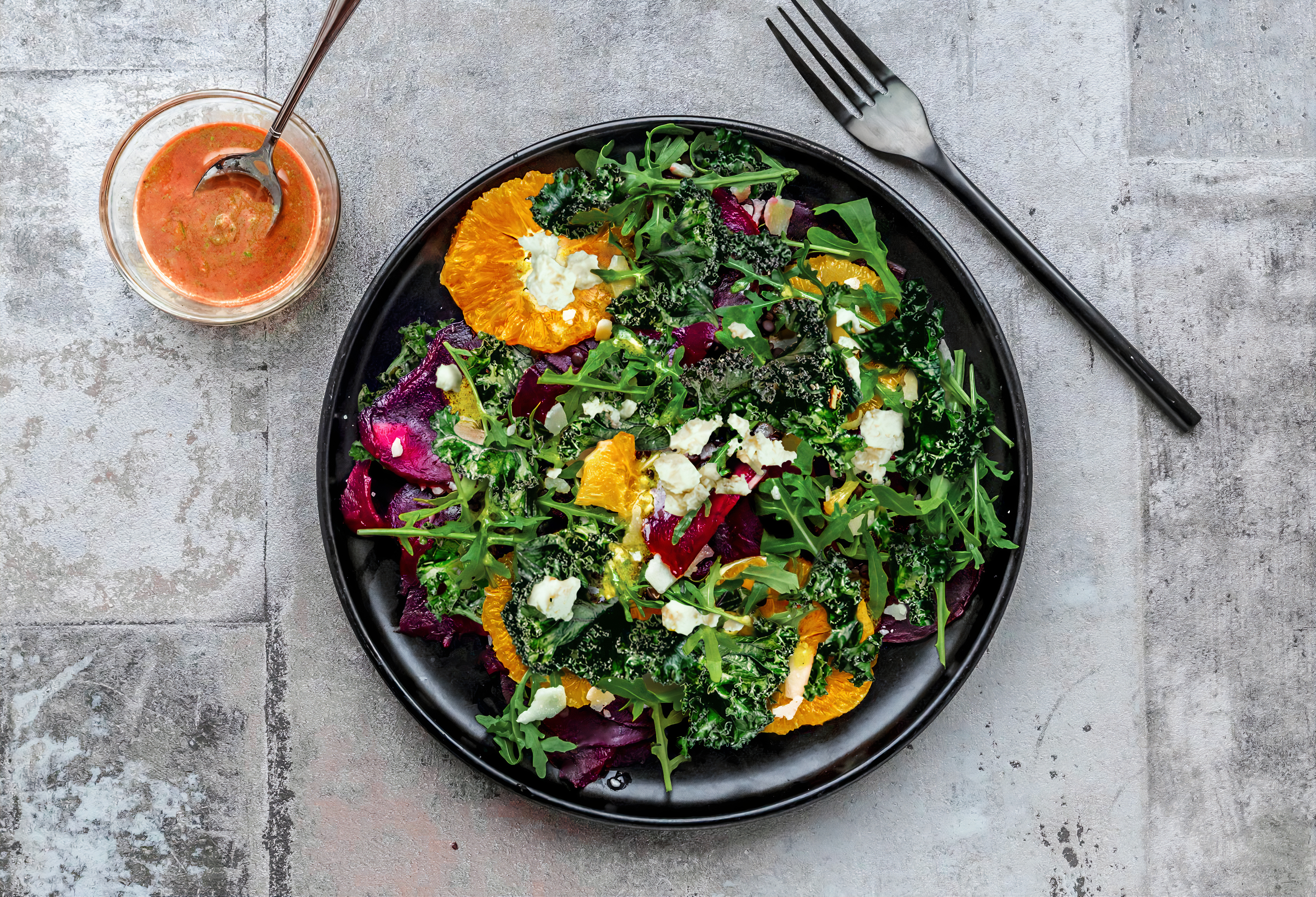 With its vibrant red color, wholesome flavors, and crisp, satisfying texture, this simple and delicious grilled beet salad provides a feast for all the senses.
Ingredients:
Kale, shredded - 2

lbs.

Fresh arugula, cleaned - 6

oz.

Orange, peeled/sliced - 3

cups

Fennel bulbs, julienne ¼ inch - 2.5

cups

Red pepper, julienne - 1

Cup

Goat cheese, crumbled - 6

oz.

Hidden Valley Italian Vinaigrette - 2

cups

Hidden Valley Raspberry Vinaigrette - 1

Cup

Hidden Valley Balsamic Vinaigrette - 1

Cup

Basil, fresh, julienne - 2

oz.

Salt and pepper mix - as needed
Preparation:
Preheat the oven to 350F. degrees. Wash the beets well and trim both ends, wrap in foil and cook for 1-1/2 hours or until soft. Once they are soft, remove them from the oven and allow them to cool enough to handle.

While warm, slip the skin off the beets with your hands. Using kitchen plastic or latex groves would be advisable because beet juice will stain your skin. Once the beets are peeled place them under refrigeration.

Once cooled slice the beets into 1 ½ inch thick rounds and marinate in Hidden Valley Italian Vinaigrette for 1 hour.

After an hour, place beets on the hot grill and grill on both sides. Then place the beets to cool. Once cooled cut into 1/2" cubes.

Place the beets in a mixing bowl with the fennel, red bell pepper, and the orange segments.

Mix the Hidden Valley Raspberry Vinaigrette and the Hiden Valley Balsamic Vinaigrette in a bowl.

Mix the arugula and kale together and toss with the beet mixture and place in a large serving bowl.
Garnish the salad with the crumbled goat cheese and julienned basil.