Green Papaya Salad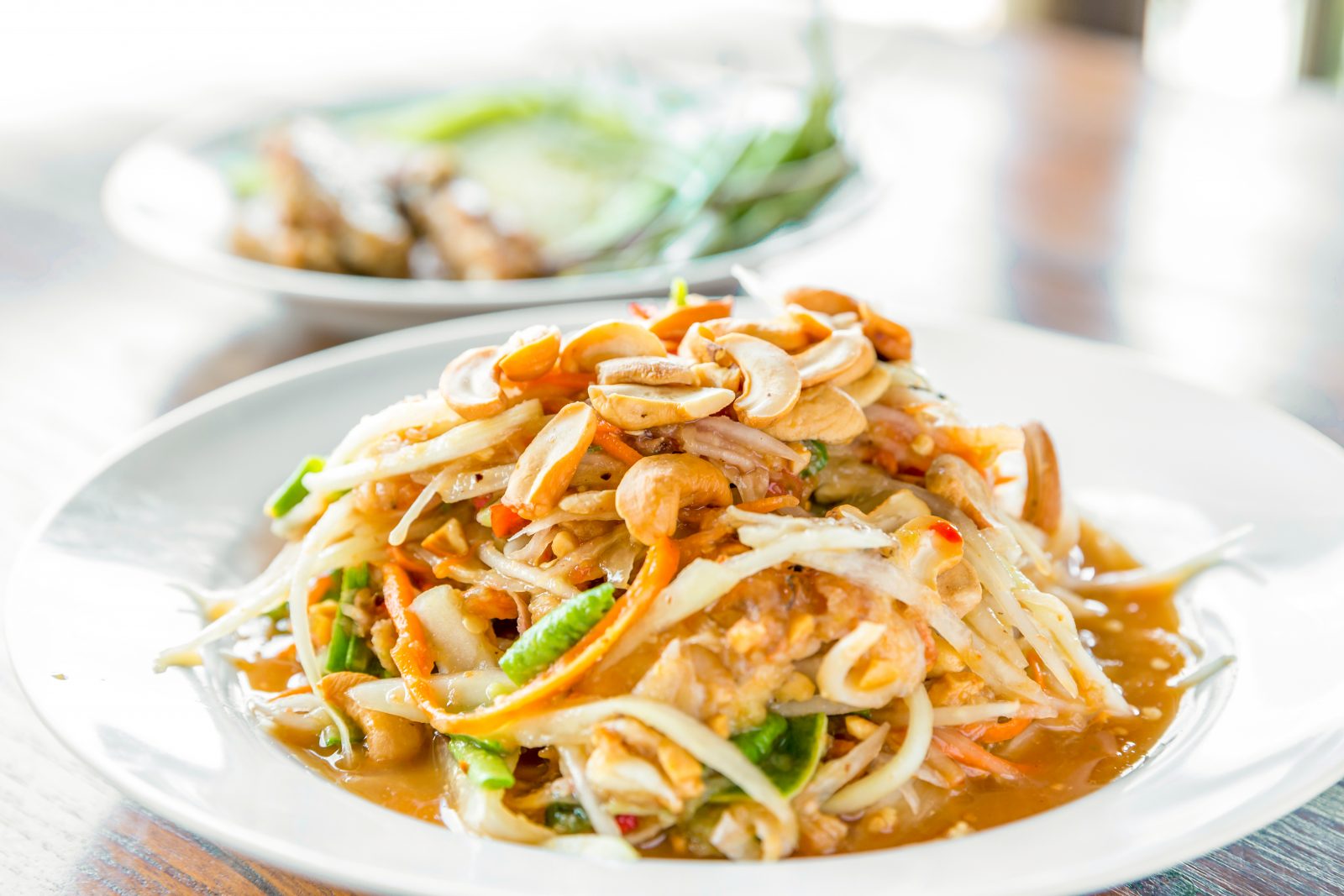 Prepared with crispy strips of green papaya, this vegetarian Thai recipe is a far cry from your typical salad. With its vibrant colors, crunchy texture, and an exotic spicy and savory flavor, this is a culinary experience that impresses on every level.
Ingredients:
Green Papaya Dressing - 2-3

oz.

Green papaya, peeled, seeded, and shredded 1/8th inch thick - 3-4

Cups

Cilantro, chopped - 1/2

Cup

Mint, fresh and chopped - 1/2

Cup

Carrots, shredded - 1

Cup

Basil, fresh chopped - 1/2

Cup

Cherry tomato, halves - 1

Cup
Preparation:
Gather all the Ingredients together and combine in a clean bowl.
Mix well and hold for service.
Before serving this on the plate the portion per order is 4 oz. weight of the green papaya salad and 1 oz. of green papaya salad dressing.
Subrecipes:
Green Papaya Dressing
Ingredients:

Fish Sauce -

Cup

.25
Basil, fresh leaves -

Cup

.5
Cilantro, fresh leaves -

Cup

1
Lime juice, fresh -

Cup

.75
Sauce Craft™ Sweet Chili Sauce -

Cup

.5
Sauce Craft™ Honey Sriracha Sauce -

Cup

.5
Jalapeno, fresh seeded -

each

2
Mint, fresh leaves -

Cup

.5
Salt, kosher - as needed
Instructions:

Place all the ingredients in a clean bowl and use an immersion blender to incorporate the dressing together. Add salt if needed.

Hold the dressing in the refrigeration for a minimum of 2 hours prior to use so it allows all of the fresh herb flavors to work together with the other flavor components.
Chef Tips: To get the papaya into long strips, use a mandolin tool to cut the vegetables correctly and efficiently.