Far East Chicken Fried Chicken Salad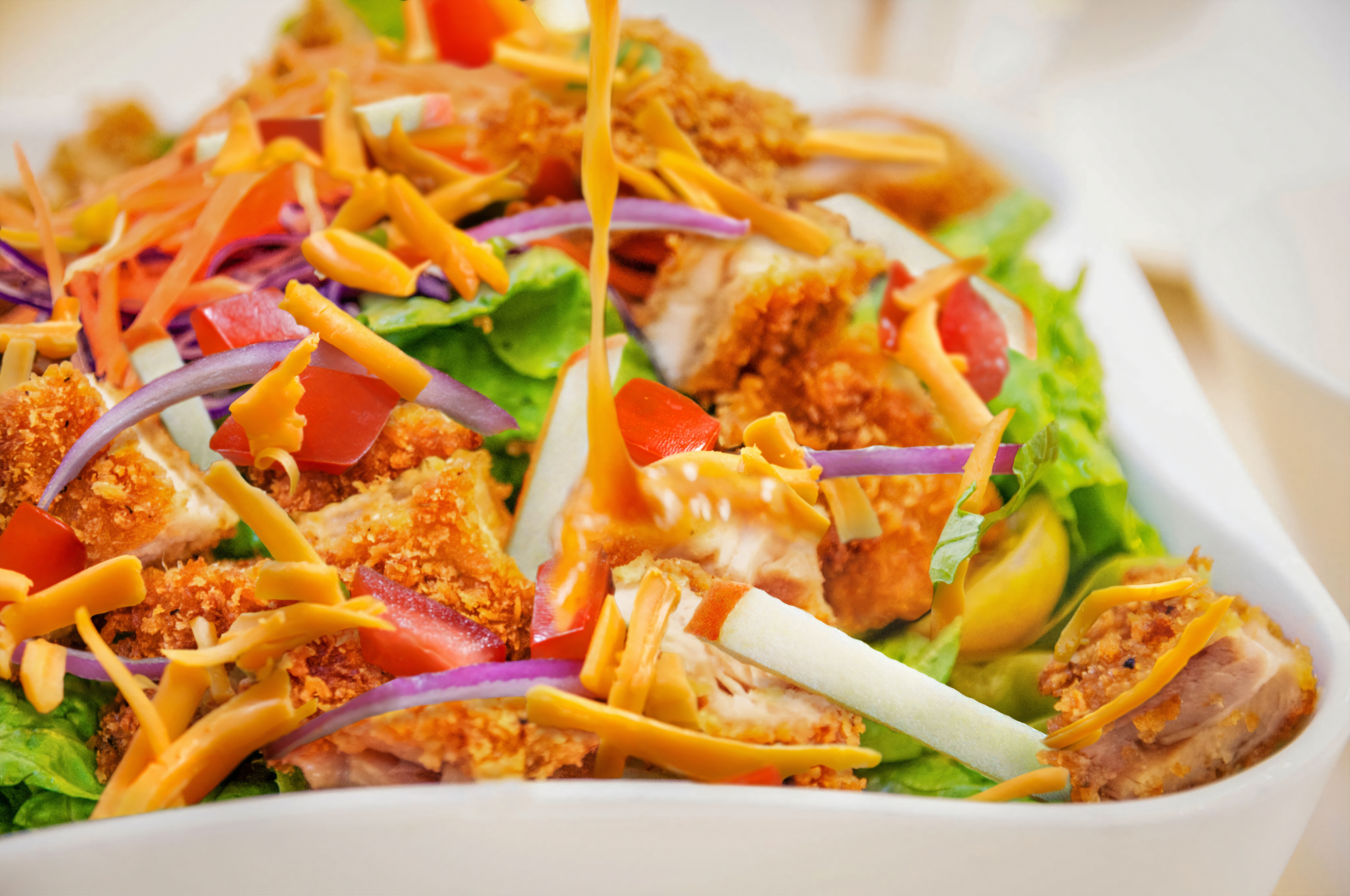 Prepared with standard fried chicken and a variety of common vegetables plus a copious serving of soy ginger dressing for that authentic Asian flavor, this recipe is an easy solution to introduce exciting, multicultural eating experiences to your salad menu.
Ingredients:
Precooked fried chicken, cut 1/2" chunks - 6

oz.

Fresh green mix cut - 2

Cups

Tomatoes diced small - .25

Cup

Red onions, julienned - .25

Cup

Cheddar cheese, shredded - .25

Cup

Carrot, julienne - .25

Cup

Green apples, julienne - .25

Cup

Cilantro fresh , chopped - .25

Cup

Soy Ginger dressing - 2.5

oz.

Classic Gourmet Mayonnaise, heavy duty - 3

Cups

Sauce Craft Teriyaki sauce, Sauce Craft - 1

Cup

Salt and pepper mix - To taste

To taste

Fresh ginger, grated - .25

Cup

Fresh garlic, chopped - .25

Cup

Seasoned rice wine vinegar - .5

Cup

Honey - .5-1

Cup

Fresh cilantro, leaves - 1

Cup
Preparation:
Cut the chicken in 1/2" thick diced strips and hold.

Mix all the following 7 ingredients together except for the cheese, chicken, 1/2 of the chopped cilantro, and combine well. Place the salad mixture onto the serving bowl.

Mound the salad in the bowl and create height. Place the chicken in the center and finish with sprinkling the cheese and chopped cilantro over the entire salad.

The ingredients remaining are to create the soy ginger dressing for the salad. In a mixing bowl combine all the ingredients together and use an immersion blender to mix together until smooth. Add salt and pepper as needed for additional flavor. Pour into a clean container. Hold in the refrigerator until needed.
Chef Tip:
If you are already currently using a sesame ginger dressing, that is a good option as well. You can add in the fresh cilantro for added flavor and brightness of flavor to the dressing.