Fajitas Steak and Roasted Potato Salad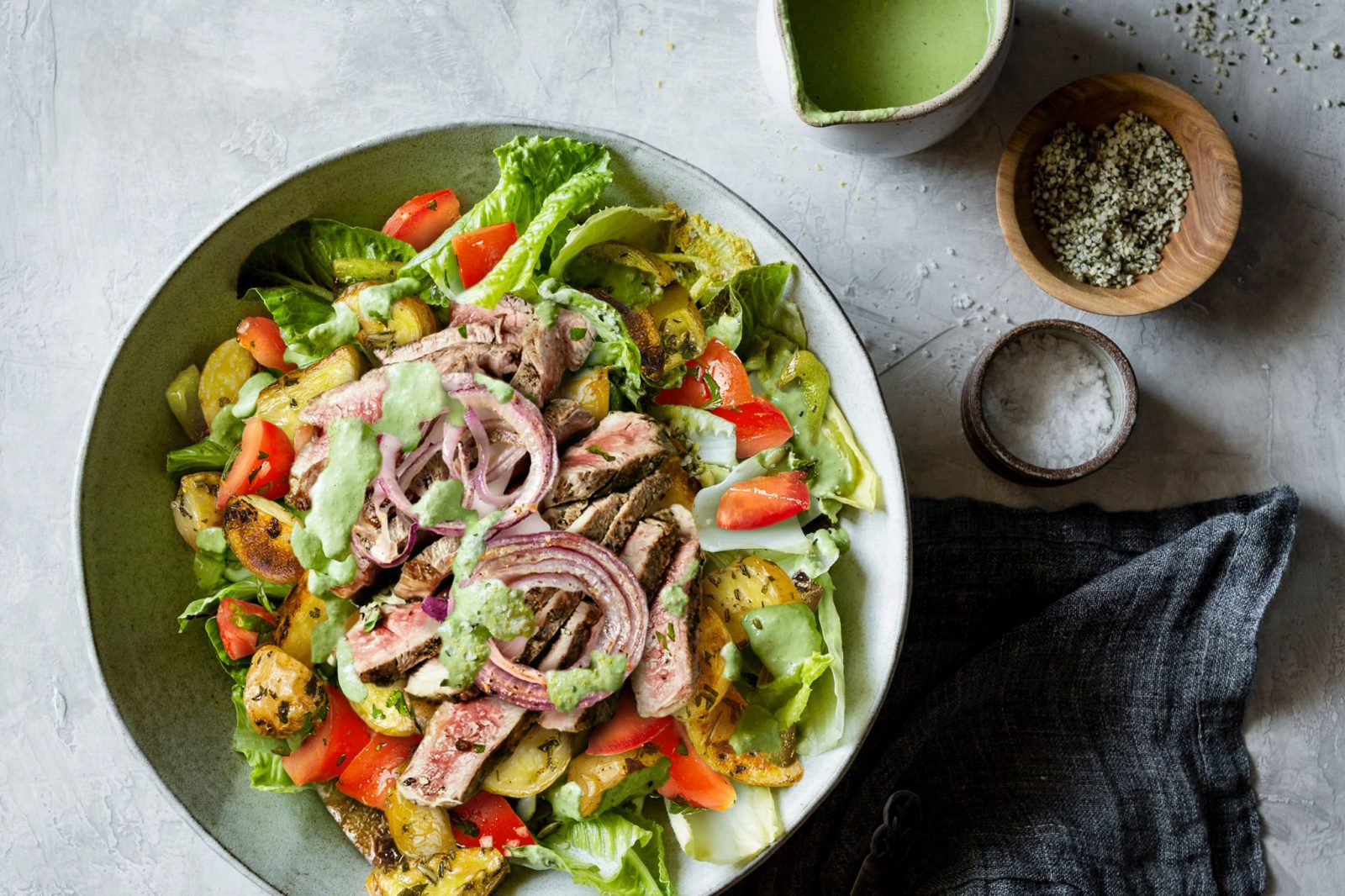 Hot days call for hot food and this sizzling southwestern salad delivers on all counts. Crisp potatoes and grilled steak fajitas serve as a hearty core for this surprisingly spicy salad your customers will love.
Ingredients:
Romaine, cut - 3

Cups

Strip loin, grilled medium/sliced - 8

oz.

Roasted potatoes, cut into 1/4's - 1/2

Cup

Roma Tomatoes, fresh - 1/2

Cup

Red onion, grilled rings - 3

oz.

Green peppers fresh, julienne - 1/2

Cup

Cilantro, chopped - 2

tbs.

Creamy Green Goddess Dressing -
Preparation:
Grill the steak to medium temp 145F. degrees. In a mixing bowl toss all the ingredients except for 1/2 of the grilled onions and the steak.

Plate the salad and mound high. Slice the steak on a bias and shingle on the front side of the salad.

Take the remainder of the onion and place them on top of the salad. Stack with height and sprinkle over the top of the chopped cilantro.
Subrecipes:
Creamy Green Goddess Dressing
Ingredients:

Parsley fresh, no stems -

Cups

1-1/2
Salt and pepper mix - As needed
Hidden Valley® Original Ranch® -

quart

1-1/2
Black pepper, ground -

tbs.

2
Fresh cilantro, leaves only -

Cup

1/2
Fresh tarragon, leaves only -

Cups

1-1/2
Fresh garlic, chopped -

tbs.

2
Lemon juice, fresh -

Cup

1/2
Green onion, cut -

Cup

1
Instructions:

In a mixing bowl place all the ingredients together.

Using a hand immersion blender or commercial blender combine all the ingredients well and the consistency is smooth. Adjust the flavor with salt and pepper as needed.