Caprese Grilled Chicken Salad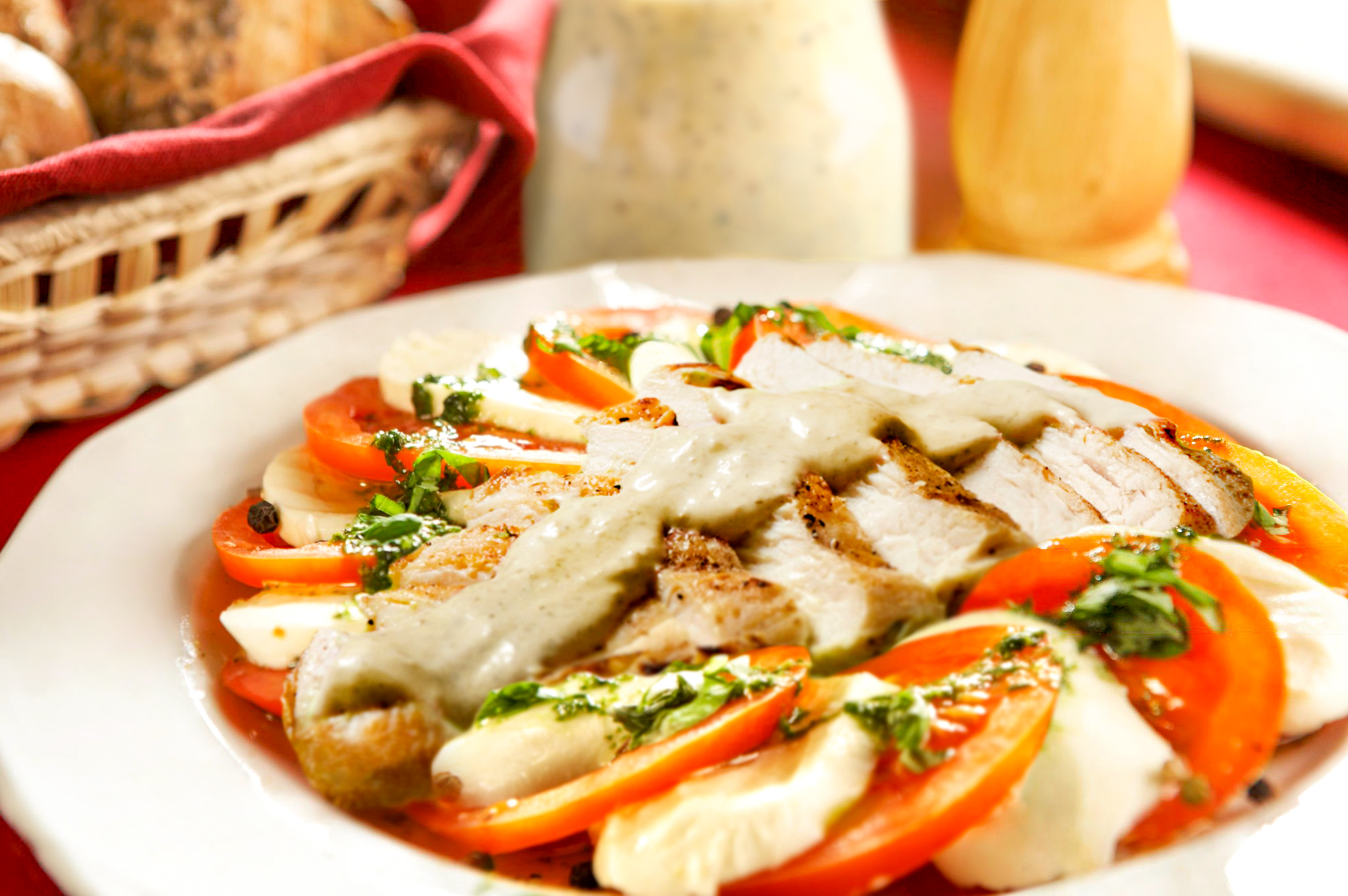 The classic Caprese combines fresh mozzarella, juicy tomatoes, and sweet basil with a light seasoning of olive oil, for a chicken salad recipe that looks artfully arranged and tastes authentically Italian.
Ingredients:
Fresh mozzarella, sliced - 4-5

each

Roma tomatoes, sliced - 5

each

Julienne carrots - 1

tbs.

Italian parsley - 1

sprig

Ciabatta bread - 2

slice

Marie's® Italian Vinaigrette Dressing - 1.5

oz.

Mixed greens - 1

Cup

Diced cucumber - 1

tbs.

Grilled chicken, sliced bias cut, 5 slices - 4

oz.

Chef's Pride Premium Mayonnaise - 2

Cups

Roasted garlic, chopped - 1/2

Cup

Mozzarella, shredded - 2

Cups

Salt and pepper mix - as needed

Parmesan cheese, shredded - 1

Cup

Cheesy mayonnaise spread - see recipe below - 2

oz.
Preparation:
Grill chicken, achieve diamond marks and internal temp of 165F. degrees. and set aside to rest before slicing.

In the mixing bowl mix the greens and dressing. Toss well together and place in the middle of the serving bowl stacking it tall.
Fan the chicken on top of the lettuce. Place the julienne carrots on the chicken and a sprig of Italian parsley on the carrots.

Take the bread and broil it under the salamander until it becomes golden brown. Allow it to set a bit and place it on the back side of the salad pointing up and sprinkle the diced cucumber over the salad.

Spread over the bread a layer to cover the top of the bread. 1 oz. per slice. There should be a good heavy coat of the mayonnaise spread per slice of bread.
Toast the bread under the cheese melter until the cheese is bubbly and golden brown.

Procedure for cheese spread: Combine the mayonnaise, garlic, parmesan cheese, roasted garlic, salt, pepper, and mozzarella cheese together and combine well in a mixing bowl.