Cajun Mahi-Mahi Taco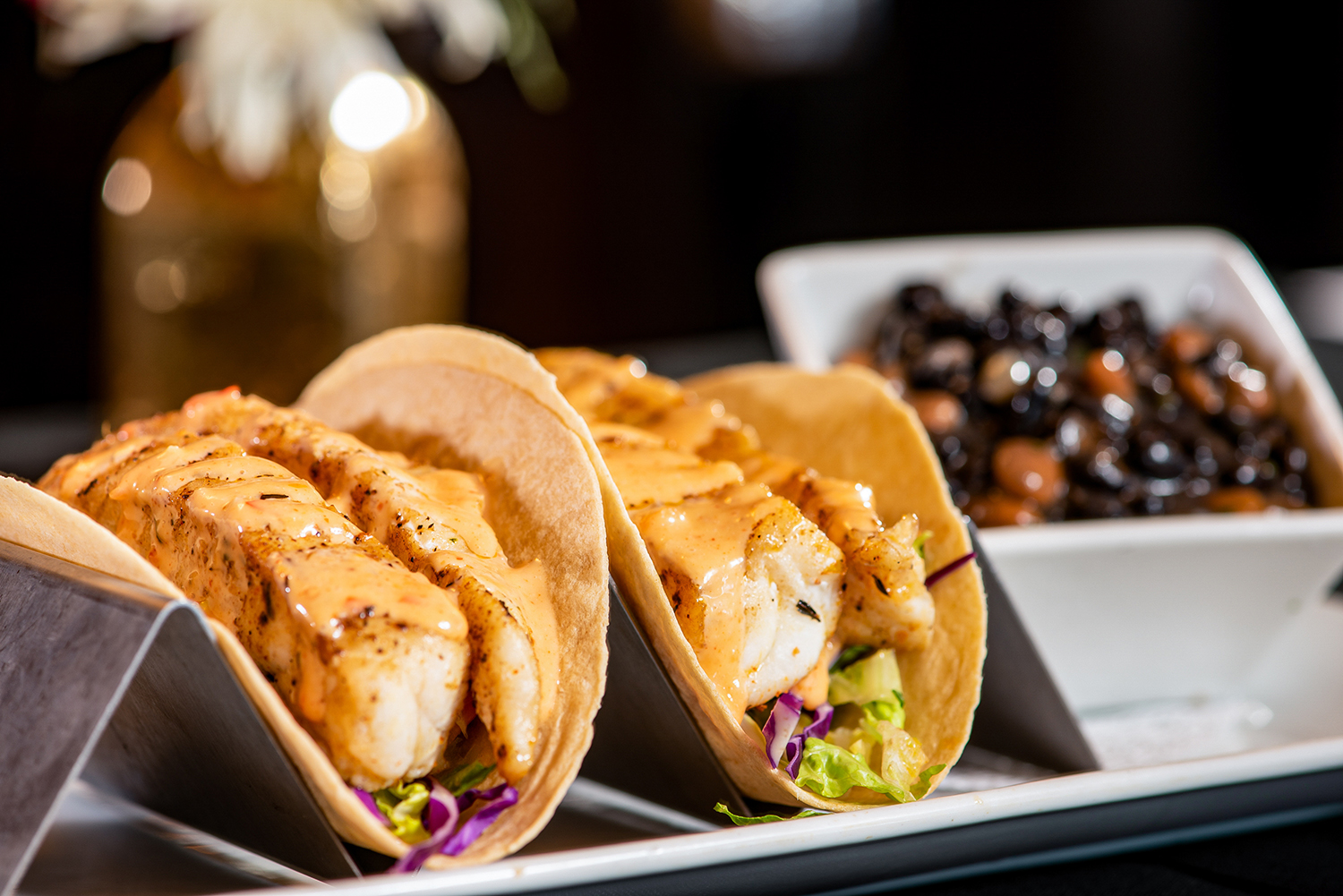 Seasoned with bold Cajun spices, these blackened mahi-mahi fish tacos make for a mouthwatering meal for spice lovers, seafood fans, and taco enjoyers alike.
Ingredients:
Mahi-Mahi strips, blackened spiced - 3

oz.

Flour Tortilla 4" - 3

each

Slaw Mix - 6

tbs.

Chopped cilantro - 3

tsp.

Lemon wedge - 1

each

Spicy Cajun SunGlow Compound Butter Blend - 3

oz.

Cajun Spiced Honey Sriracha-Lime Sauce - 2-1/2

oz.

Blackened spice - 3

tsp.
Preparation:
On the grill lightly sear the tortilla on one side.

On the stove heat the Cajun Sunglow until it is very hot and place the fish seasoned with 1 tsp. of blackened spice per piece in the pan. sear well on all sides. 1-2 minutes total time to cook the fish.

On the tortilla place the slaw mix, then the mahi-mahi atop the slaw.

Drizzle the Cajun Lime Honey Sriracha sauce over the fish and the slaw. Finish by sprinkling with chopped cilantro on each taco. Place the taco on the plate with lemon wedge and serve.
Subrecipes:
Spicy Cajun SunGlow Compound Butter Blend
Ingredients:

Cajun spice -

Cup

1/4
Black pepper, ground -

tbs.

2
SunGlow® European Style Butter Blend, slightly softened -

lbs.

2
Chopped garlic, fresh -

Cup

1/4
Worchestshire sauce -

Cup

1/4
Sauce Craft™ Cayenne Pepper Sauce -

Cup

1/2
Instructions:

Start mixing the sunglow in the mixer on a slow speed for 1 minute

Add in all the dry ingredients first and mix well. Slowly add in all the liquids until they are well incorporated in the Sunglow.

Mix just until well incorporated. DO NOT OVER WHIP the content in the bowl. 2 minutes maximum on time!
Cajun Spiced Honey Sriracha-Lime Sauce
Ingredients:

Sauce Craft™ Honey Sriracha Sauce -

Cup

4
Lime juice -

Cup

1
Cajun spice -

Cup

.5
Instructions:

Mix all the ingredients together and combine well.

Place the completed sauce into a clean container and hold it in the refrigerator until needed.
Serving Suggestions: This item can be served as a single taco or as a meal coming with rice and beans. These are often good and offered as a light appetizer.