Buffalo Blue Cheese Fried Shrimp Pizza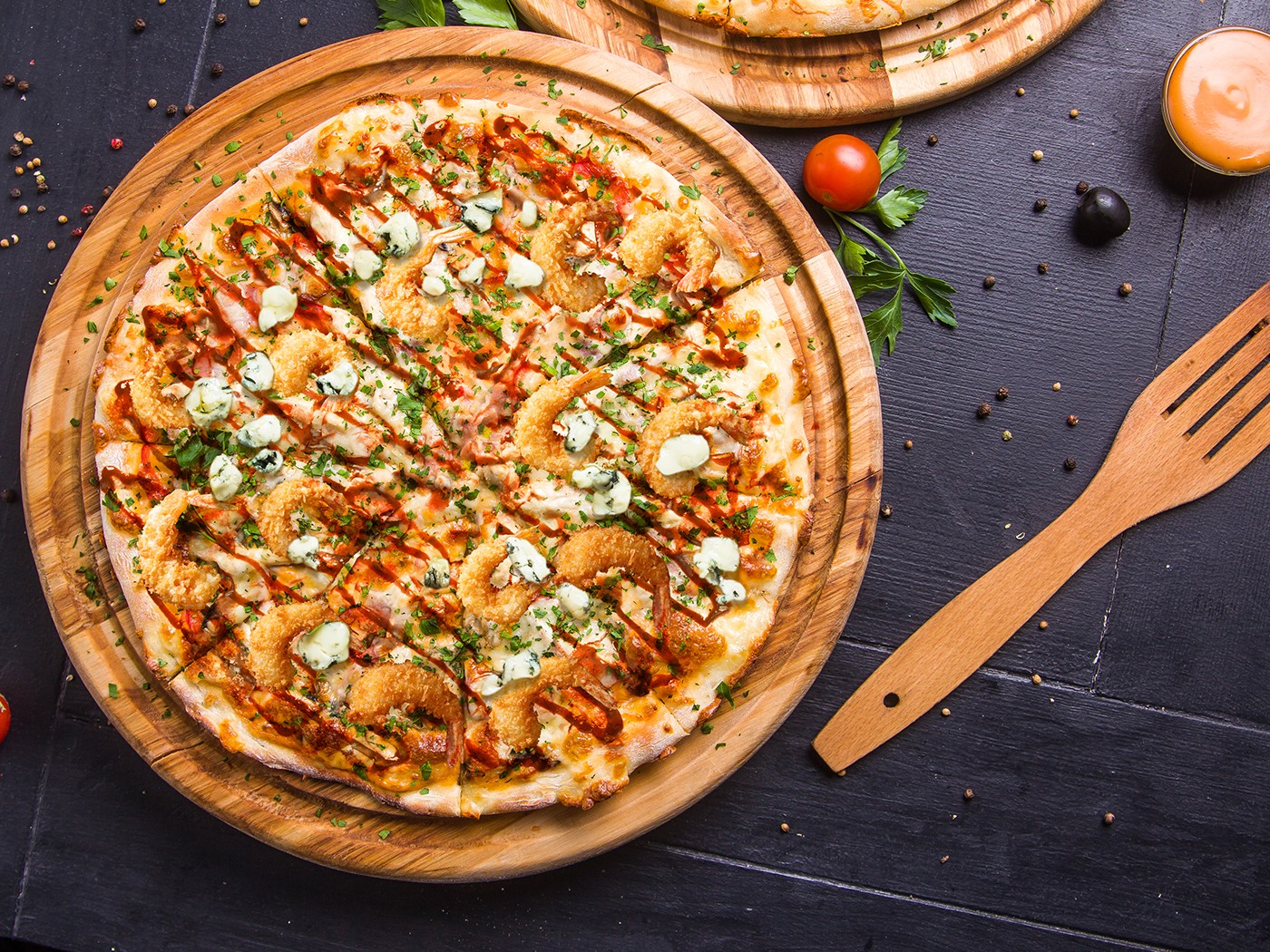 Your customers have heard of buffalo chicken on pizza, but have they ever tried buffalo shrimp? This reimagining of a popular favorite keeps that spicy buffalo flavor but adds crispy fried shrimp into the mix for a pizza that tastes both familiar and unique.
Ingredients:
Pizza Crust, 10-inch - 1

each

Hidden Valley Blue cheese dressing - 2

oz.

Mozzarella cheese, shredded - 3

oz.

Breaded shrimp, prepared - 10

each

Chopped bacon, cooked crisp - 1

tbs.

Crumbled blue cheese - 2

tbs.

Sauce Craft Buffalo sauce - 2

oz.

Chopped fresh parsley - 1

tbs.
Preparation:
On the pizza crust spread both the buffalo sauce and blue cheese dressing evenly over the surface of the crust. Then spread the mozzarella cheese over the sauce. Drop the breaded shrimp into a 350F.- degree fryer and fry the shrimp until they are golden brown in color. Hold to the side warm.

Bake in the pizza oven the time/temp your establishment would bake a cheese pizza for.

Fry the shrimp in the deep fryer until golden brown and hold until the pizza comes out of the oven. 500F.- degrees for 7-9 min or when the crust starts to turn a golden brown in color.

Once the pizza comes out of the oven arrange the shrimp evenly over the surface of the pizza.

Sprinkle the bacon, crumbled blue cheese, and drizzle the buffalo sauce over the entire pizza. Lastly, sprinkle the pizza with chopped parsley.

Place the pizza on the serving vessel then cut the pizza into 8 wedges.
Serving Suggestions:
This is a great pizza to share as an appetizer or a single serving. The build can remain the same but the sauce can change along with the flavor profile of the pizza.