Brisket of Beef Meatballs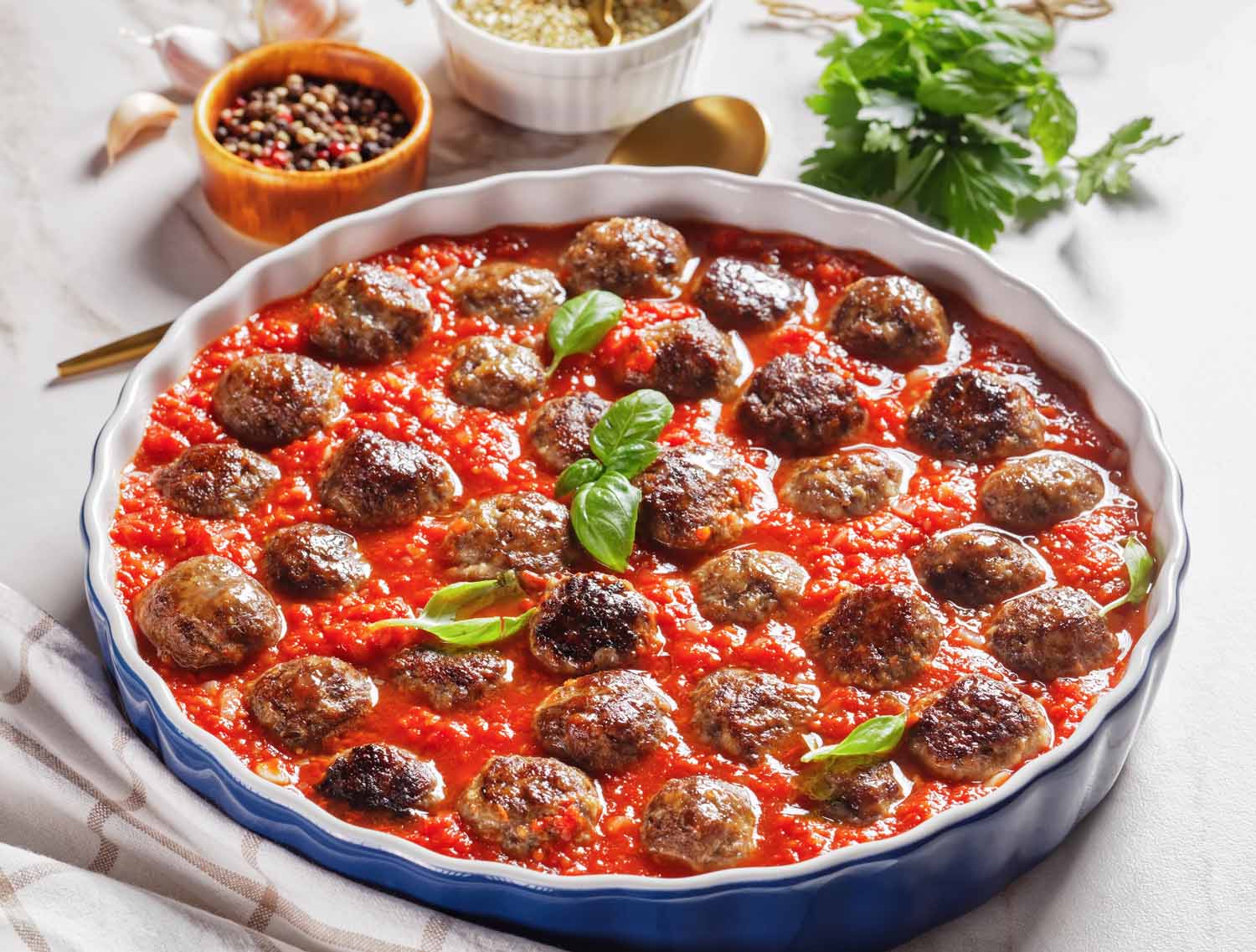 Start with ground beef brisket, season it with black pepper, parsley, and parmesan, then let the balls simmer in savory tomato sauce and hearty beef stock. That's a recipe for mouthwatering meatballs and a resounding restaurant success.
Ingredients:
Ground beef brisket - 20

lbs.

Parmesan cheese, grated - 12

Cups

Panko breadcrumbs - 20

Cups

Salt, kosher - .5

Cup

Black pepper, ground - .25

Cup

Italian parsley, chopped - 2

Cups

Hidden Valley French dressing - 5

Cups

Eggs, whole - 20

each

Tomato sauce - 1

gallon

Classic Gourmet Beef base - 1

lb.

Water - 2

gallon
Preparation:
In a mixing bowl combine all the ingredients and mix well.

Using a scale weigh the meatballs to a 5 oz. weight. Make sure not to overwork the meat mixture but roll them tightly into a ball.

Place rolled meatballs onto a papered sheet pan.
Cover, label, and date the meatballs. Refrigerate until needed.

Cooking the meatballs:

Mix the tomato sauce and the beef stock. Follow the directions on the beef base container to make the stock.

Heat both the tomato sauce and the beef stock together to 165F. Drop the meatballs into the hot liquid and cook for 1 hour or until the meatballs reach an internal temperature of 165F.
During the cooking process make sure the meatballs are suspended in the liquid and are not burning on the bottom of the pot. Use a rubber spatula to keep moving the meatballs.
Once the meatballs have completed cooking turn the flame off and let the meatballs steep in the juice and rest.