Braised Short Rib in Guajillo Chili Sauce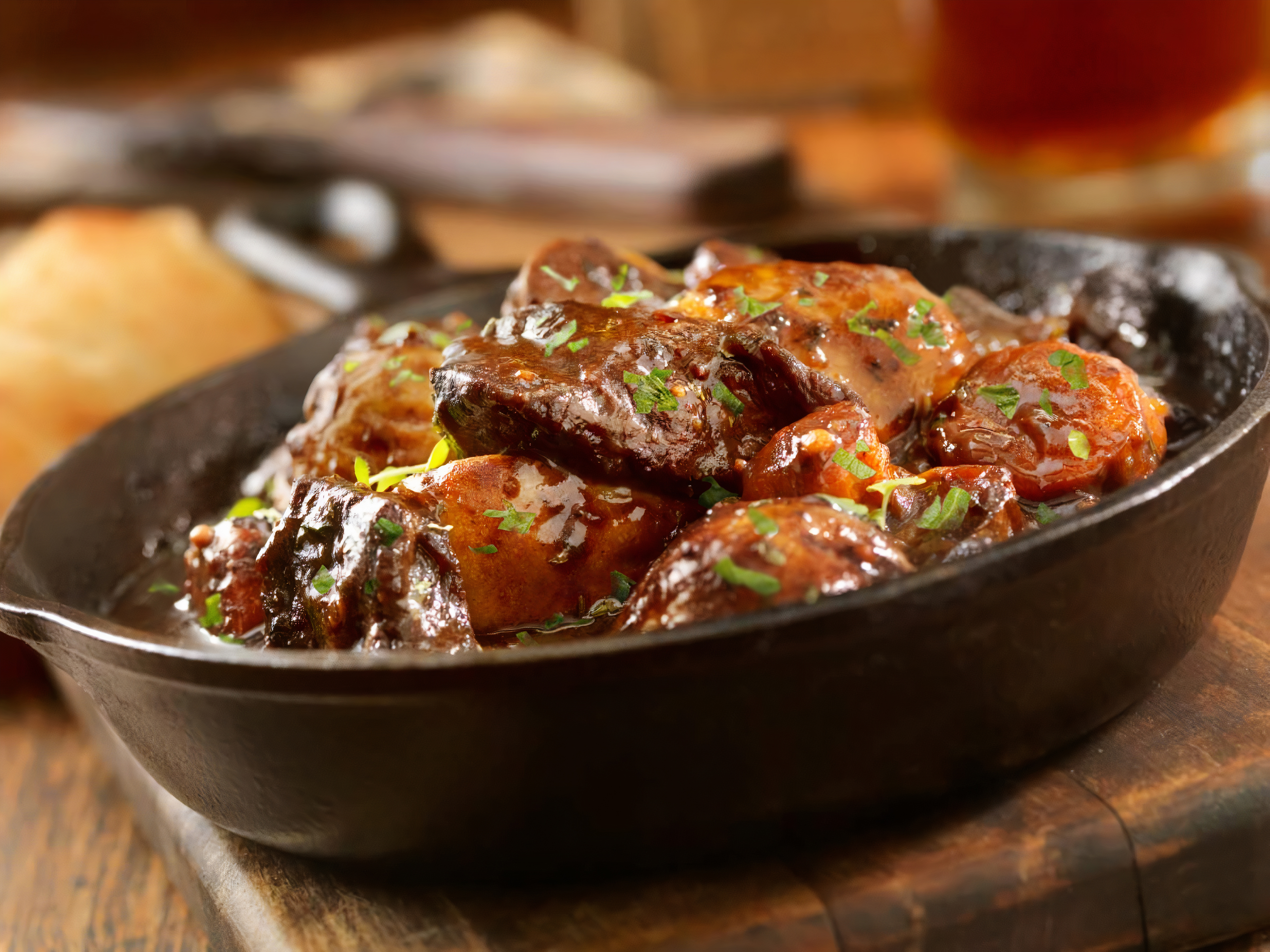 Slow-cooked until they're tender and slathered in spicy guajillo chili sauce, these short ribs are simple to make yet a stunningly fancy entrée that will have reviewers singing your praises.
Ingredients:
Sunglow - 1-2

cups

Boneless beef short ribs 12-14 oz. weight pcs. - 20

each

Flour, all purpose - As needed

Garlic, peeled - 2

cups

Onions, yellow chopped rough - 4

each

Cilantro, chopped - 1

bunch

Water - 2

gallon

Beef base - .5

Cup

Red Sauce Paste /Red Chili Sauce - 2

Quarts

Sunglow, cut into cubes - 2

lbs.

Salt and pepper mix - As needed
Preparation:
Heat sauté pan with oil, season the short ribs with salt/pepper, and dredge in flour.

Place the short ribs in the pan and sear all sides. When all the short ribs are all seared, cook off the onions, garlic, and cilantro for approx. 3-4 minutes then deglaze with beef broth and guajillo sauce. Cook for approx. 2-3 minutes, cover the pan with foil.

Place the covered pan in the 325F. degree oven and braise for 2-2-1/2 hours or until fork-tender.

Pull the meat out gently and place it to the side. Strain the sauce off and add the Sunglow slowly along with the salt/pepper to finish off the sauce. Hold the sauce for service.
Subrecipes:
Red Sauce Paste /Red Chili Sauce
Ingredients:

Ancho Chiles, seeded -

oz

8
Guajillo Chiles, seeded - 4
Garlic, whole peeled -

oz

4
Onion, yellow large diced -

Cup

6
Classic Gourmet Chicken Base -

Cup

.25
Water -

Gal.

.5
Chipotle chilis, in Adobo -

oz

3
Red Chili Sauce- See Below -
Phase, LBA -

oz

2
Garlic fresh, chopped -

tbs.

3
Tomato puree -

Cups

1.5
Water -

Cups

2
Red chili paste -

Cups

5
Classic Gourmet, chicken base -

tbs.

3
Sunglow, cut into cubes -

oz

8
Salt and pepper mix - As needed
Instructions:

Place the first 7 items in a pot and cook until the chilis are soft. Approximate cook time 30-35 minutes.

Once the chilis are soft place them in a blender and puree until smooth and hold in a clean container to proceed to make the Red Chili sauce.

In a sauce pot place the Phase and chopped garlic, saute until it has a nice aroma.

Add in the chili paste, chicken base, water, tomato puree and cook for 10-15 min on low heat. Add salt and pepper as needed. Finish the sauce with Sunglow and incorporate into the chili sauce slowly.

Strain the sauce well through a fine strainer and hold in a clean storage container until needed for service.
Serving Suggestions: This entree can be served with polenta, rice, cilantro, and roasted corn mashed potatoes, or it can be shredded and served atop nachos with melted shredded cheese.