Asian Seafood Pasta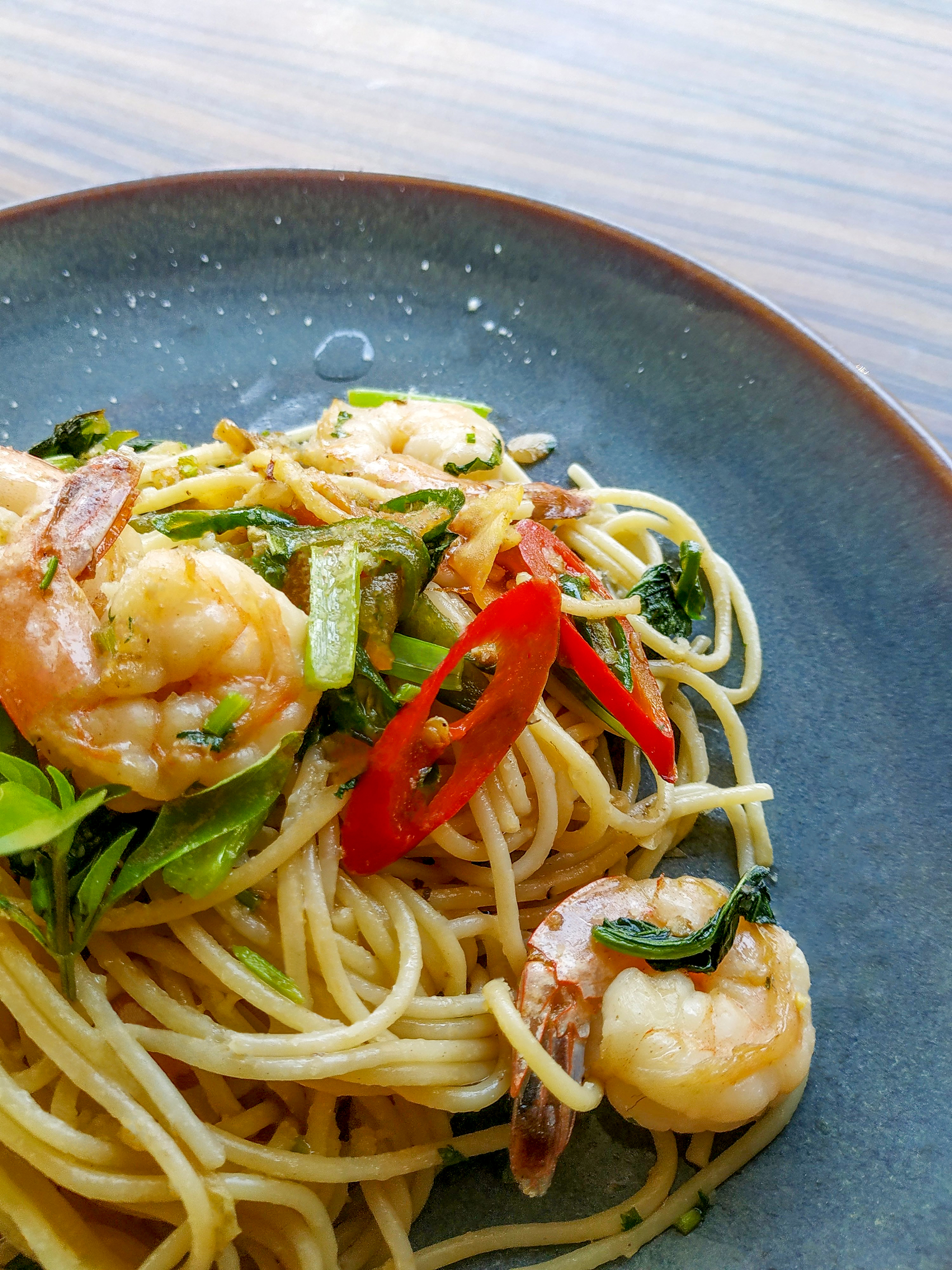 Taking the seafood staples of shrimp and scallops and spicing them up with a flavorful Asian broth, this pasta recipe combines the greatest hits of yummy ingredients to produce a culinary masterpiece
Ingredients:
Sesame oil - 1

oz.

Red onion, diced large - 3

oz.

Mahi-Mahi, 1" cubes - 4

oz.

Bay scallops - 6

oz.

shrimp31/35 ct., peeled and deveined - 6

oz.

Chopped garlic - 1

tbs.

Snow peas, julienne - 1/2

Cup

Carrot, julienne - 2

oz.

Asian broth, see below instructions - 5-6

oz.

Cooked Noodles - 6

oz.

Asian Broth -

Water - 3

cups

Vegetable Base - 2-4

tbs.

Sherry wine - 1

Cup

Soy sauce - 1/2

Cup

Chopped Garlic - 2

tbs.

Chopped ginger - 2

tbs.

Red pepper, diced large - 1

Cup

Onion, yellow, chopped - 1

Cup
Preparation:
In a sauté pan add in the oil and let it get hot. Place the seafood and sear well. Then the garlic and the vegetables. Cook for approx. 2 min until the vegetable soften.
Deglaze the pan with the Asian broth, then place the pasta in the pan and coat well.

When plating the dish place the pasta down on the dish and all the other ingredients on top. Add in around the pasta 5-6 oz. broth and serve.

For the remainder last 8 ingredients on the recipe. Those are for the Asian broth. Add all the ingredients into the pot, place on the stove and bring it to a boil let simmer for 15-20 minutes.

Strain all the solids out and place into a storage container and store in the refrigerator until needed.