Asian Peanut Dressing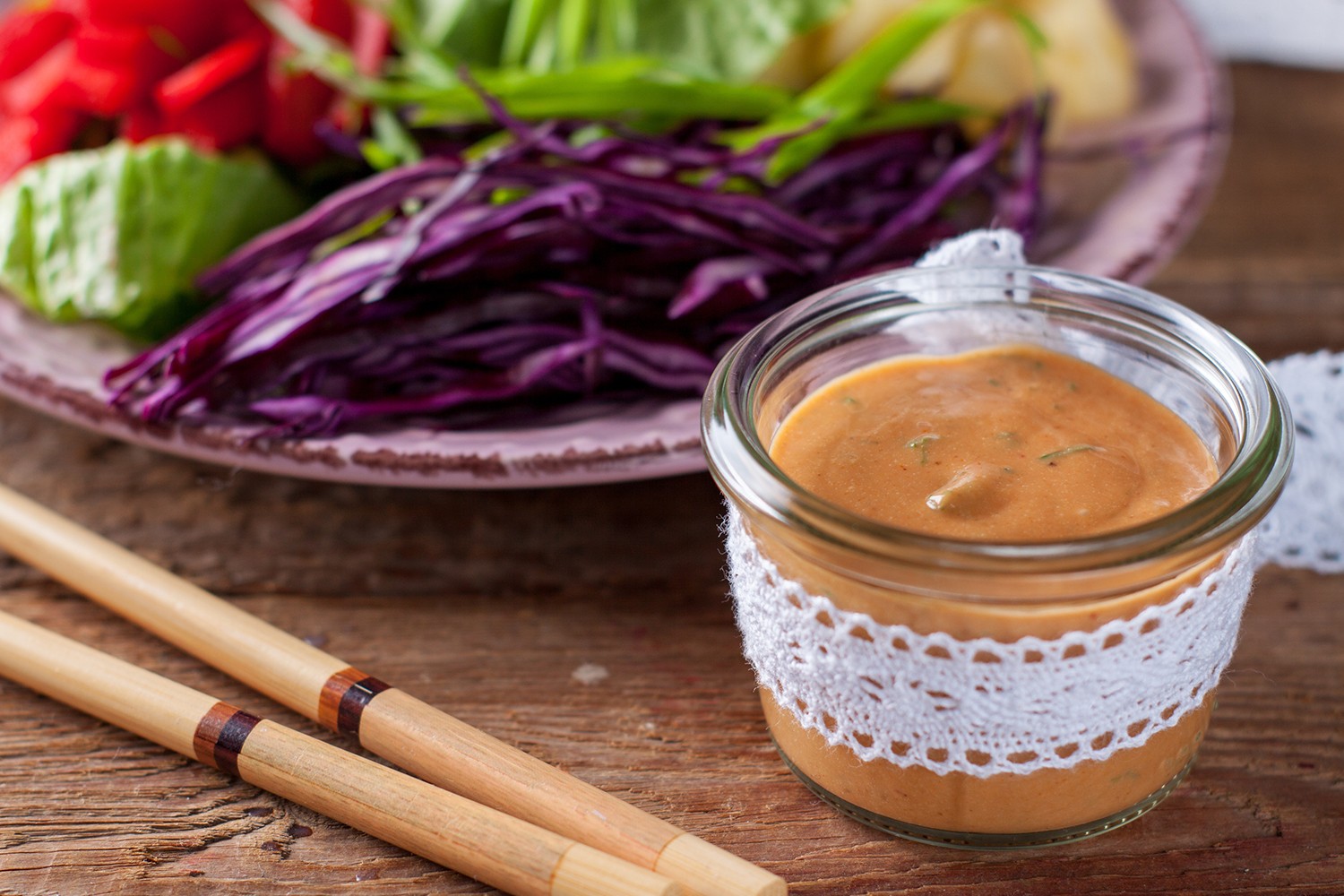 An inspired medley of honey sriracha, spicy Korean peppers, teriyaki sauce, and crunchy peanut butter, this delicious peanut dressing is sure to impress your customers with its authentic Asian flavor.
Ingredients:
Sauce Craft Honey Sriracha sauce - 2

Cups

Sauce Craft Gojuchang Korean pepper sauce - 2

Cups

Sauce Craft Sweet chili sauce - 2

Cups

Peanut butter, crunchy - 2

Cups

Cilantro, chopped - 1-2

Cups

Rice wine vinegar - 1-2

Cups

Sauce Craft Teriyaki sauce - 2

Cups
Preparation:
Place all the ingredients into a clean mixing bowl except for the cilantro and the rice wine vinegar. Using the immersion blender, blend the contents in the bowl until well incorporated.

Add in the cilantro and stir it into the mixture. Using the emersion blender, begin to pulse the cilantro into the mixture in the bowl along with the rice wine vinegar.

You still want the cilantro to be visible in a dressing. Depending on the consistency of the dressing, additional rice wine vinegar can be added to thin down the viscosity of the dressing as the cilantro will thicken the dressing as it breaks down into the dressing.
Chef Tips:
Add in 1/4 cup of rice wine vinegar to start to the dressing and blend to see the consistency. If a thinner viscosity is desired, add in the additional rice wine vinegar.
Serving Suggestions:
This dressing can be used for salads both with greens, grains, noodles, accompaniments for proteins both in hot and cold applications, and fried appetizers.