Ancho-Lime BBQ Snapper Tostada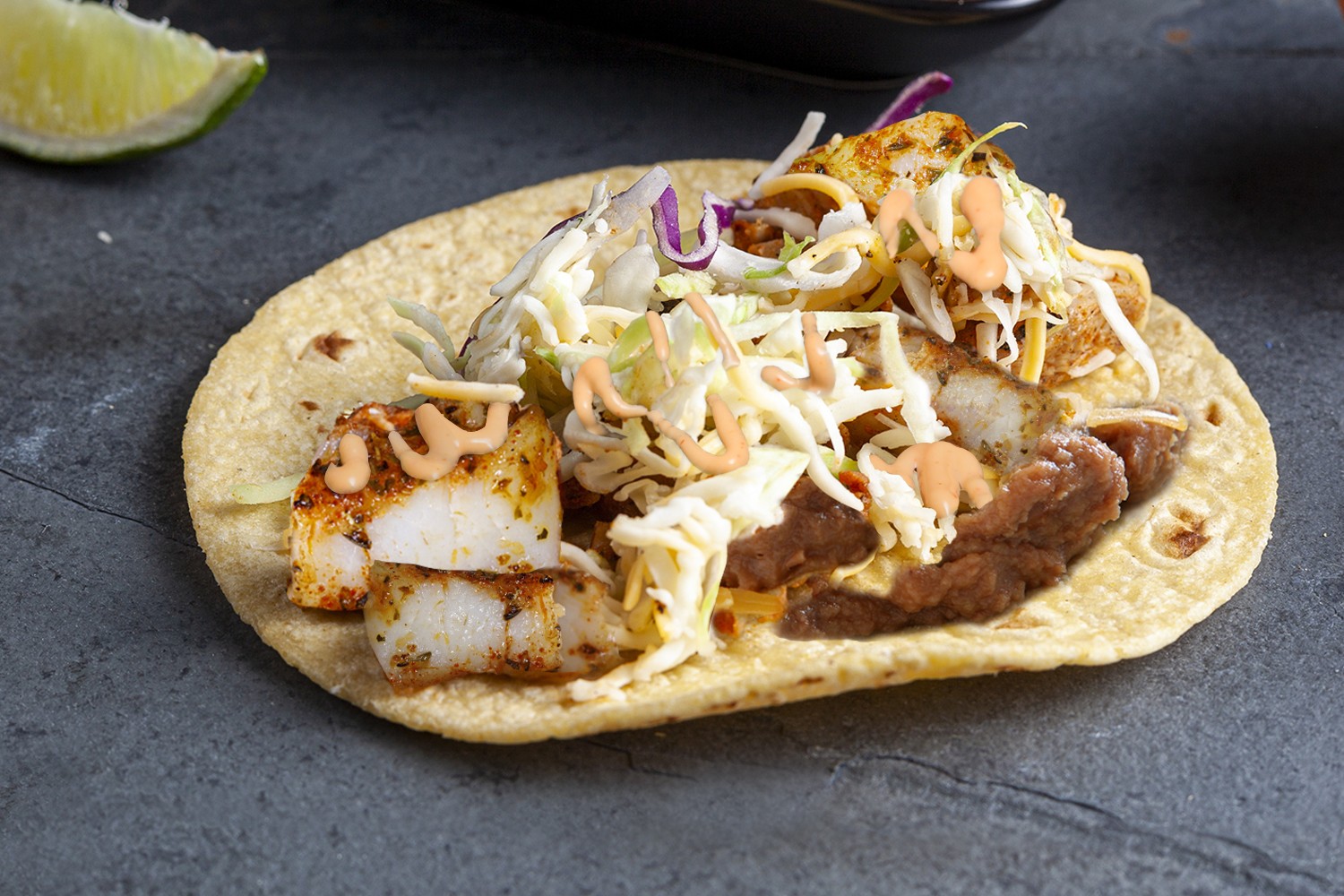 Featuring fresh Red Snapper filets drizzled with a delightfully tangy Ancho-Lime BBQ sauce, these tasty seafood tostadas will make your restaurant the talk of the town.
Ingredients:
Green Cabbage, julienne - .25

oz.

Red Cabbage, julienne - .25

oz.

Jalapeno, seeded, sliced thin - 1/2

tsp.

Cilantro, fresh, chopped - 1

tsp.

Carrots, julienne - 2

tbs.

Baby spinach, julienne - .25

Cup

Pineapple fresh, chopped, grilled - 2

tbs.

Flour tortilla- 6" - 1

each

Phase, LBA - 2

oz.

Salt and pepper mix - as needed

Snapper, fresh - 2

oz.

Ancho-Lime BBQ Sauce - .5

oz.
Preparation:
In a mixing bowl place the red and green cabbage, jalapeno, baby spinach, grilled pineapple, carrots, chopped cilantro and toss together. Set aside.

On the flat top grill or frying pan heat the LouAna LBA (Liquid Butter Alternative) on medium heat on the stove.

Season the snapper with salt and pepper, sear in the pan quickly on both sides until the fish gives a firm texture then set aside.

Heat the tortillas on the flat top grill and place them on the plate, put 1/4 cup of the slaw mix in the center of the tortilla and top with 1 piece of fish. Then drizzle with the Ancho Lime BBQ Sauce over the top of the tostada.
Subrecipes:
Ancho-Lime BBQ Sauce
Ingredients:

Paprika powder, smoked -

tbs.

5-6
Cilantro, fresh - no stems -

bunch

1
Lime juice, fresh -

oz.

5
Sauce Craft , Smoky BBQ Sauce -

gallon

1
Ancho chili powder -

Cup

.5
Salt and pepper mix - As needed
Instructions:

In a clean container place all the ingredients together and combine well using an emulsion blender. Blend all the ingredients and combine well until smooth.

Pour the completed sauce into a clean storage container and store it in the refrigerator until needed.
Chef Tips: The fish can be also swapped out for other types of proteins to be used in this tostada. Also, keep in mind this will also work in the bowl format for the operators that want to build with grains and greens yet still use the same sauce.