Savory Vegetable Bread Pudding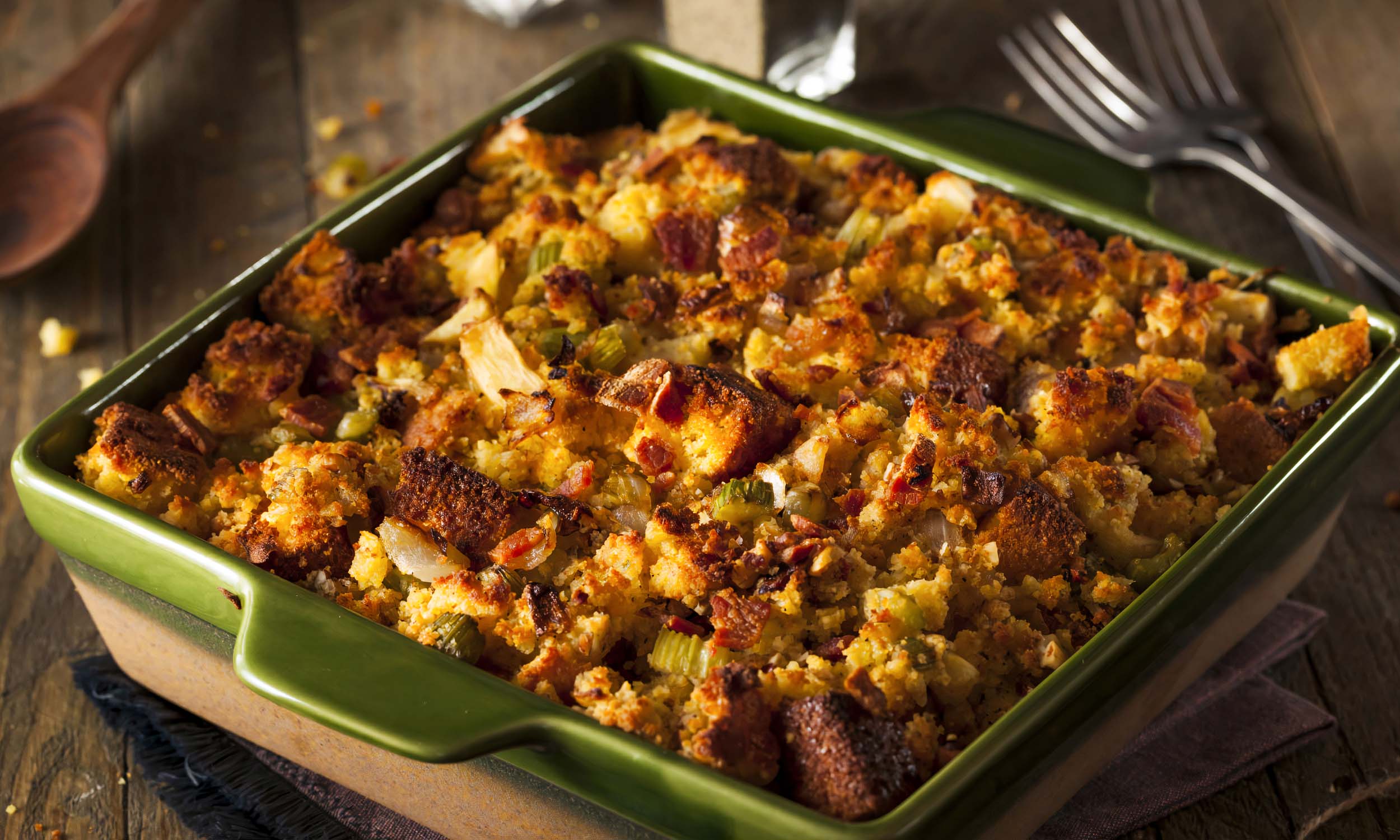 Chewy, soft, and savory, our traditional bread pudding makes use of common kitchen ingredients to make a cost-effective and customer-approved comfort food classic.
Ingredients:
French bread cut into 1" cubes - 2

lbs.

Classic Gourmet Roasted Vegetable base - 3

tbs.

Milk, whole - .5

Gal.

Hidden Valley Ranch - 3

Cups

Classic Gourmet Cream soup base - .5

bag

Salt, kosher - 2

tbs.

Black pepper, ground - 2

tbs.

Gruyere cheese, shredded - 4

Cups

White cheddar cheese, shredded - 3

Cups

Eggs, whole - 9

each

Mushrooms, Cremini, sliced - 1

lb.

Zucchini squash, sliced half-moons - 2

lbs.

Carrots, julienne - .5

lb.

Leeks, cut into ½" rounds, whites only - 1

lb.

Bell peppers, red, julienne - 1

lb.

Artichoke hearts, quartered - 4 -12. oz. cans

Can

Phase, LBA - 6-8

oz.

Panko breadcrumbs - 6

oz.

Parmesan cheese, grated - 4

oz.

Roma tomatoes, ½" thick rounds - 24

each
Preparation:
In a pot heat the milk to slightly boiling. Then add the cream soup base. Continue to stir till the cream soup base is a creamy consistency. Pour into a clean container and set aside.

In a sauté pan heat the Phase and cook all the vegetables until al dente. Place on a sheet pan to cool.

Once the cream has cooled, add the eggs, dressing and mix well, add the vegetables, bread and gruyere and white cheddar cheeses. Fold together well. Ensure the mix has been absorbed by the bread completely.

Place in a large deep pan sprayed with pan coating. Ensure the mixture is evenly distributed in the pan. Drop the Roma tomatoes on top evenly distributed. Mix the parmesan cheese/panko bread crumb together and sprinkle over the top of the mixture in the pan.

Wrap with first plastic wrap and finish with foil. Cook in a 350F. degree oven for 45 minutes or until it is puffed up. Pull the cover off and cook for an additional 15 minutes for the cheese to brown.

Allow the bread pudding to rest for 30-45 minutes after pulling out of the oven.