Latest Trends
Shifts in Foodservice Demographics
Published on December 20, 2022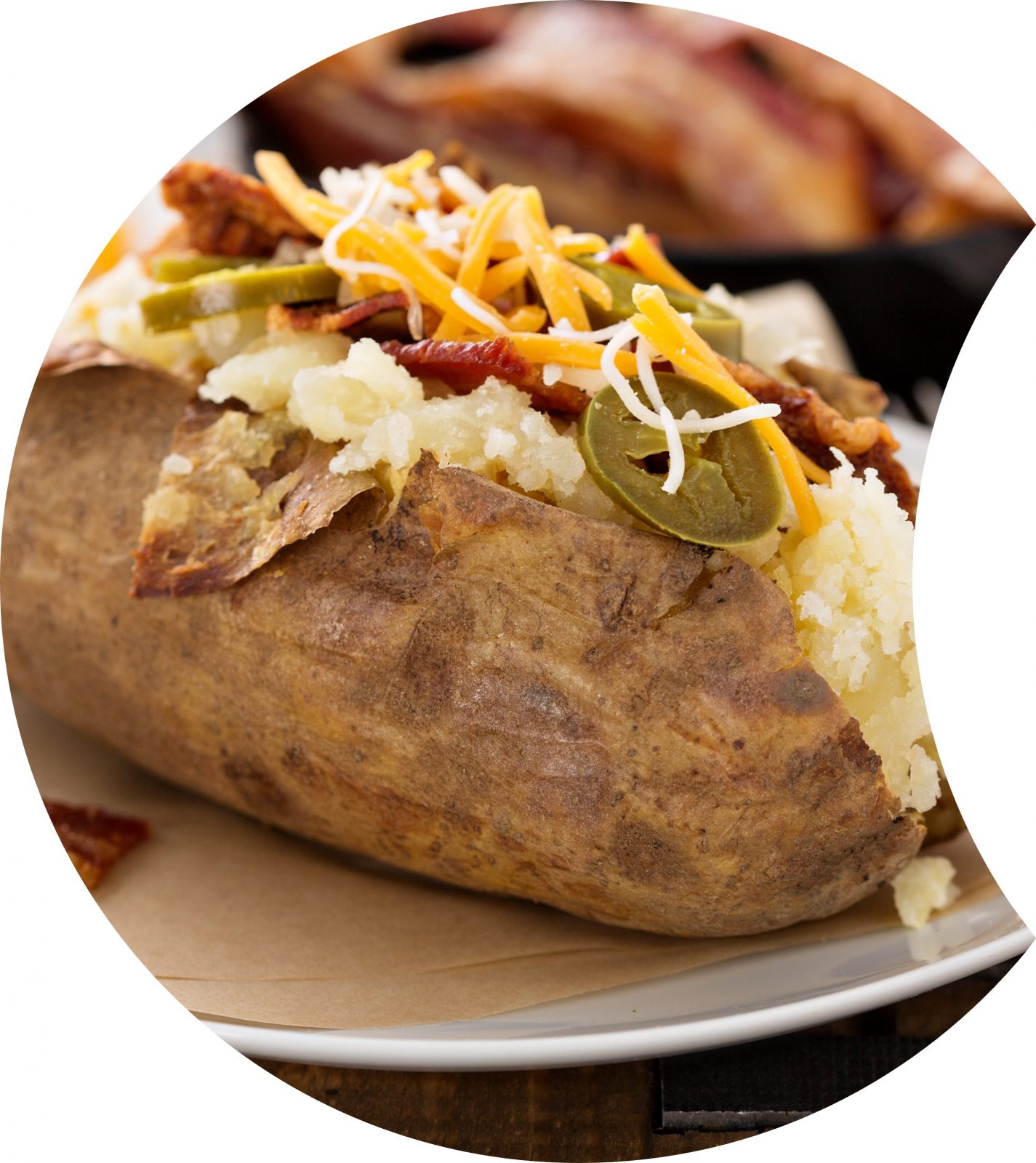 Image Source: Shutterstock
© 2022 Technomic, Inc.
Segment: Patronage Variances
Segment
Limited-service patronage is fairly steady across races/ethnicities, with Hispanic/Latino consumers consistently leading across LSR subsegments.
Distinct consumer habits, living situations and dining parties all come into play when thinking about the differences between races/ethnicities, meaning operators and suppliers hoping to target specific groups will have to take a comprehensive approach to understanding their customers' engagement patterns.
What's Next
Flexibility is key as operators navigate shifting behaviors amid ever-changing demographics in the U.S. population. As the population becomes more diverse, maintaining the ability to adapt to key cohorts while also identifying strong opportunities across the board will help with consistent growth opportunities.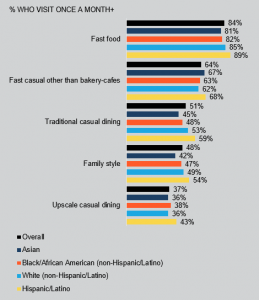 Source: Technomic 2022 Multicultural Consumer Trend Report
© 2022 Technomic, Inc.
Impact of Social Justice
Industry Trend
More than three in 10 Black/African American consumers (32%) state that it is important that the restaurants they visit support social justice, a higher number than other backgrounds. In particular, racial equality is the top issue in which these consumers would want restaurants to take an active role.
Consumers, and particularly Black/African American consumers, increasingly expect businesses like restaurants to take an active role in addressing these issues.
What's Next
Restaurants have already begun to take concrete steps to support social justice and racial equality, with companies like Yum Brands, Starbucks, PepsiCo and Chipotle investing hundreds of millions into equality initiatives in the past two years.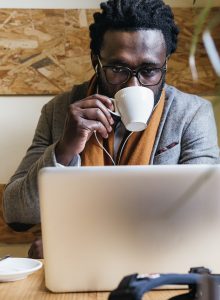 Source: Restaurant Business
Image Source: Shutterstock
©2022 Technomic, Inc.
Foodservice Habits Shift
Consumer
When asked in which ways eating behaviors have changed over the last two years, more than half of consumers report that they are preparing food and beverages at home more often. Furthermore, while most indicate that they expect to order from restaurants and dining locations the same amount over the next year, there is a net decrease in ordering overall. This suggests the potential for decreased patronage in the short term as consumers manage economic and inflationary pressures by turning to at-home sourcing.
What's Next
Overall, messaging value and promotions will help tap into pervasive consumer needs around saving money as the current economic environment affects customers across all demographics. There are multiple avenues to do so, such as in-house customer loyalty programs to encourage long-term engagement, as well as BOGO deals and limited-time dollar menus that draw attention and spark impulse visits.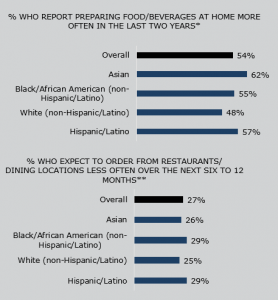 Source: Technomic 2022 Multicultural Consumer Trend Report
© 2022 Technomic, Inc.
Language Matters
Menu
When dining at LSR restaurants, Hispanic/Latino consumers overindex for stating that the restaurant menu or website/mobile app should be available in the language that corresponds to the cuisine being offered.
What's Next
The pandemic-era shift to off-premise dining and the growing influence of tech-savvy Gen Zers means digital touch points are becoming increasingly important for restaurants. In the LSR space, where digital ordering is most common, Hispanic/Latino consumers are more likely than other races/ethnicities to use a restaurant's mobile app and are also likely to look up a restaurant's menu online.
Offering menus and websites/apps in multiple languages will help restaurants appeal to a wider array of consumers. In particular, offering menus/apps in Spanish will drive traffic among Hispanic/Latino consumers.
Inspiration: Walmart has been investing in Spanish-language search capabilities on its website
Source: Technomic 2022 Multicultural Consumer Trend Report
©2022 Technomic, Inc.
Gen Z's Favorite LTO
LTO/New Item
Of the limited-time offers launched in 2022, Krystal Company's Country Loaded Fries, featuring fries topped with peppery white gravy, shredded cheddar cheese and bacon, is the most appealing to Gen Z consumers.
The top three LTOs rated by Gen Zers were all loaded potato products—each with cheese and bacon. Clearly, these carb- and cheese-heavy comfort products appeal to these consumers, who range up to 29 years old currently.
What's Next
Cravings are clearly a large driver for Gen Z's preferences. This may also play into the overall comfort food trend we have seen across menu throughout the pandemic. It is important when rolling out new products to understand which demographics these items could draw in or isolate.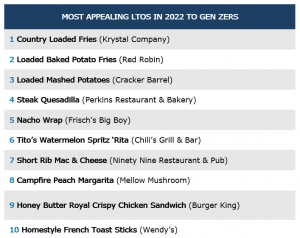 Source: Technomic Ignite Menu consumer-rated LTOs data, January 2022-September 2022
© 2022 Technomic, Inc.